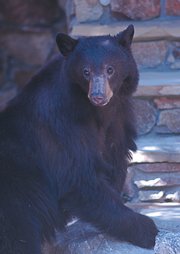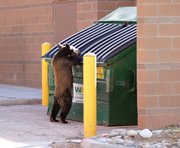 Steamboat Springs — A mother black bear was euthanized Monday after she was caught in a trap on the side of a Steamboat Springs lawn after breaking into at least four homes. Two bears were put down in Grand Junction this week, as were two in Aspen - one that reportedly broke into a school and one that broke into a home through a closed window. A bear was killed by a motorist as it was crossing U.S. Highway 40 at the base of Rabbit Ears Pass on Thursday night. A bicyclist hit a bear after it darted in front of him on Fish Creek Falls Road on Friday. A bear reportedly killed several sheep in the Flat Tops Wilderness area south of Hayden.
City, county and state officials recently have been fielding dozens of calls a day about bears in trash, in yards and sniffing around homes.
And there is no end in sight.
Jim Haskins, area wildlife manager for the Division of Wildlife, said the presence of bears spans beyond Routt County to include neighboring areas.
"It's not been a very good week anywhere," he said Friday afternoon.
Living in Routt County, residents are aware that coexisting with wildlife, including bears, is a part of daily life. However, this summer has been a significant challenge for law enforcement officials because there have been increasing numbers of bears interacting with people. As a result, officials are struggling with what to do about a growing problem that unfortunately is ending in the deaths of dozens of bears across the state.
While there is no one person or agency responsible for mitigating Routt County's bear problem, officials again are asking residents to abide by city ordinances designed to prevent bears from accessing the one thing that is driving them into the city every day - food.
Feeding frenzy
Bear sightings are most common in April or May and in September, when bears are coming out of and entering hibernation, Haskins said.
Seeing bears in July and August is rare, he said.
"This is about unprecedented for us," he added.
Haskins said the root of the bear problem is the lack of food in their natural habitat.
June's frost killed budding berries and acorns and recent weeks of drought have kept bears' natural food sources from developing, he said.
As a result, bears are being forced to search harder and in other areas to find food. That search has reached a peak because bears are consumed by a feeding frenzy in the months leading up to their hibernations, Haskins said.
"Bears are literally having to find other food sources because they're not finding their natural food sources," he said. "It's a terrible, terrible problem."
In addition to finding alternate food sources, bears also are expanding the boundaries of their habitats.
"In conditions like this, any animal will expand its range to accommodate for the loss or scarcity of its natural habitat," Haskins said.
And where are bears finding food?
Overflowing Dumpsters. Trash cans that have been left out for days. Compost heaps. Exposed trash cans on the side of houses. In refrigerators and pantries bears can access through open windows or doors.
"All the bears are doing right now is looking for food, and they will do whatever it takes to find those food sources," he said. "We can count on that the rest of the summer."
Cracking down
In 2001, the Steamboat Springs City Council passed an ordinance making it illegal for residents to put out trash before 6 a.m. on trash collection day or after 8 p.m. the night before if the trash is not contained in wildlife-proof containers. Trash containers are supposed to be returned to a building, house, garage or Dumpster enclosure. The ordinance also makes it illegal to knowingly feed wildlife.
Enforcing the ordinance has become a priority for city officials in light of the bear issues the city has been facing in recent weeks.
Deputy City Manager Wendy DuBord said Thursday police officers and code enforcement officers are prepared to step up enforcement by issuing fines to residents not in compliance with the city ordinance. A municipal judge reserves the right to assess the fine, but it could range from $100 to $500 depending on how many offenses the resident has been cited for, she said.
"People are really good for awhile, and they forget and go back to their old habits," she said. "We just want to remind people to do the right thing."
Wildlife-proof containers can be found at local hardware stores, through Waste Management or online.
Public Safety Director J.D. Hays said he had directed his officers to begin circulating fliers informing residents about the city's policies in an effort to garner compliance.
"We're working with the Division of Wildlife to help reeducate people about being compliant," he said. "The bottom line is that if you don't come into compliance, you'll eventually get a ticket."
Steamboat Springs police officer Sgt. Dale Coyner said bear complaints roll in nearly every day from neighborhoods all across Steamboat Springs.
"It's an ongoing issue," he said. "Daily, I see knocked over trashcans and cans that have been gone through. It's still a problem."
Coyner said bears also are getting more aggressive in finding food sources.
"People have commented that the bears are becoming more bold and brazen," he said. "As a general rule, bears are becoming more comfortable around people. They're not as easily scared off."
Haskins agreed, saying once bears become accustomed to eating trash and know where to find it, it is nearly impossible to deter a bear from targeting trash.
"I really think some of these bears are keyed in on trash pick-up days," he said. "They're not stupid animals. What you have to understand is they're going to follow their noses from here on out."
However, Haskins said people should not fear bears because they generally are not aggressive toward people.
"Generally, bears aren't dangerous," he said. "You have a greater chance of being killed by bees."
Left without an option
The presence of "nuisance bears" will become more prevalent if people don't start keeping their trash off the streets, Haskins said.
Area DOW officials are meeting at 9 a.m. Tuesday to discuss some of the area's recent problems, including escalating bear problems.
"We hope to put out a city map and plot where we're seeing bears and where we're having problems to increase patrol," he said.
There are at least six areas DOW officials are keeping their eyes on, including the east end of Steamboat Springs, Dream Island Plaza, Val d'Isere Circle and Buena Vista Court.
An active trap has been set east of Steamboat Springs to catch a bear that reportedly has been killing chickens and goats, he said.
There also have been talks about resurrecting the Bear-Aware program, which allows community members to take an active role in managing Steamboat's bear population.
While DOW policies allow for officers to relocate bears before putting them down, most bears don't have high success rates after being relocated, he said.
"Officers in Vail have told me that they haven't had a successful relocation in the last four years," Haskins said. "They either died on their own, are killed by other bears, come back into town or are killed by other people."
Finding areas in Colorado that will accept relocated bears also has grown difficult, he said.
"Nobody wants bears," he said. "It's a very, very difficult situation because it's tough to find places that will take them, and we're reluctant to put them in areas where we know sheep are."
Turning anger into action
Randy Hampton, a spokesman for the Division of Wildlife, said people's reactions to Monday's incident in which a mother bear was destroyed for being a "nuisance bear" spurred several people to lash out at the DOW in anger.
"Nobody gets any pleasure out of what happened in Steamboat Springs or what happened in the past in Vail and Aspen," he said. "People say they're disgusted. Well, we're just as disgusted that we had to put the bears down."
Hampton said he hopes people will "channel" their anger by being compliant with city ordinances designed to protect the bears from becoming acclimatized to eating trash.
"We'll be the bad guy if it prompts change," he said. "The best way to protect bears is to push for enforcement. We're all responsible for protecting the wildlife we love."
Hampton said he is encouraged Steamboat Springs officials are increasing enforcement efforts in hopes of protecting the bears.
In recent years, Vail officials have taken similar stances on enforcing the town's ordinances when the city was facing similar problems.
Division of Wildlife "officials were just overwhelmed last year in Vail," Hampton said. "The bear problem essentially blew up on us, and people got really angry."
In response, Vail police stopped issuing warnings and began citing people for violations.
"So far, this year, we haven't had any reports of bears breaking into homes, and we haven't had to set any traps," he said. "I'm not saying it's a cure-all, but enforcement helps."
-To reach Alexis DeLaCruz, call 872-4234
or e-mail adelacruz@steamboatpilot.com