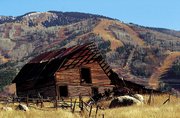 Steamboat Springs — The long anticipated closing of the sale of the historic More Barn property has allowed the Willard Owen "Jerry" More family to resume ranching on 2,300 acres along the Yampa River east of Hayden.
As a direct result of a series of real estate transactions that have closed this summer, the iconic More Barn will be preserved as part of a new four-acre city park.
Jerry More, 87, confirmed Thursday he and family members are busy putting up hay on the former Hereford Haven Ranch even as developer Robert Comes prepares to begin building Steamboat Barn Village on the old More Ranch along Fish Creek in Steamboat Springs.
"I had to get out of all that development," More said. "I've been wondering if I went far enough (west). It's working this way, you know : so you have to ask yourself."
More's grandfather, W.B. More, first came to the Yampa Valley in 1885 from Colorado's Front Range. It was an eight-day trip by covered wagon. W.B. More spent several years improving his claim on his homestead, Jerry said. His mother's side of the family emigrated from the Swiss Alps in 1885 and lived in Leadville before homesteading near Lake Catamount.
Now, thanks in part to the cooperation of Comes, Jerry More has closed on Hereford Haven Ranch, along the highway between the entrance to Yampa Valley Regional Airport and Hayden. The ranch is recognizable for its white barn and corrals. Most recently More purchased the nearby Morgan Bottom Ranch.
Comes acquired Hereford Haven on behalf of More and held it until he could win his development permit from the city and finally close on the purchase of the More Barn Ranch. The intent was always for More to use the proceeds from the sale to move his ag operation to Hereford Haven.
Comes had previously purchased the back 20 acres of the More ranch on Fish Creek in 2006. That transaction involved the broader More family - five people shared ownership.
Just this month, Comes paid Jerry More $8.5 million for the 20 acres on Pine Grove Road that include the iconic barn. In turn, Come's Steamboat Springs Holdings II LLC sold Hereford Haven to More for $2.65 million. The purchase of Morgan Bottom for $5.35 million closed just this week.
The transactions allowed More to translate 20 acres into more than 2,000 acres.
Two Realtors who are colleagues at Prudential Steamboat Realty, Karen Hughes and Chris Wittemyer, collaborated on the complex transactions.
Wittemyer had previously helped the five members of the larger More family sell two other parcels including 300 acres of land south of Steamboat near the Whitecotton subdivision and another parcel closer to town that went to the Mount Werner Water and Sanitation District.
Comes is a client of Hughes, who said she built a relationship with More throughout a period of years.
"It was a two-year process," Hughes said of the sale of the More Barn property.
"Jerry had always looked at Hereford Haven, and Bob Comes bought it and held it until he closed on the barn piece," Hughes said.
Hughes and Wittemyer agreed the two years necessary for Comes to win city approval for his development on a sensitive piece of property required enormous patience on the part of everyone involved, but the outcome has been satisfying for all parties.
"Certainly, it was the most interesting and fulfilling set of transactions I've ever worked on," Wittemyer said. "It was challenging in every sense of the word and also rewarding."
More's former home along Fish Creek has already been removed and Wittemyer is certain the accumulated memories of 60 years on the property made it difficult for More to walk away.
An unoccupied modern home on Pine Grove Road also is due to be removed, which will present better views of the historic barn to passersby.
Geoff Blakeslee of the Nature Conservancy confirmed his organization, together with the Yampa Valley Land Trust, holds a partial conservation easement on Hereford Haven.
More said his family looks forward to continuing its tradition of ranching on the land. Family members working on the ranch include his daughter Beverly Powell, grandsons Jerry Robert Powell and Lynn Owen Powell, and a granddaughter, Dorothy Harmant.
"I'm kind of one of the old-timers," More said. "There aren't many of us left."
- To reach Tom Ross, call 871-4205
or e-mail tross@steamboatpilot.com