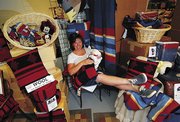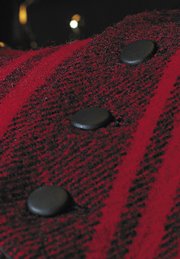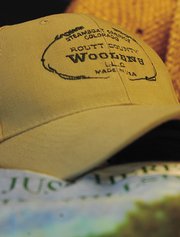 Steamboat Springs — Rosemary Farrell of Oak Creek believes "there is a need to bring back the American product."
Farrell makes pillows, boot pads and other products out of felt. She said small producers like her are at a disadvantage when it comes to competing with products shipped in from countries such as China.
"Yet, there are a lot of people willing to pay for a local product," Farrell said. "A lot of people who come to the local area would buy local products for the souvenir factor."
In an attempt to connect products such as Farrell's with the right customers, the Community Agriculture Alliance has started the Northwest Colorado Products Program.
Project coordinater Nancy Kramer said the program is part of a "huge national movement" to purchase goods produced close to home.
That movement, however, has mostly only concerned food. According to the May edition of The Progressive Farmer, the number of local markets across the country selling fresh produce and other goods has increased from 1,755 in 1994 to about 4,400 today.
Reasons behind buying locally produced food vary from safety and taste considerations to the pollution concerns associated with produce and other products traveling vast distances.
The Northwest Colorado Products Program, which includes food and other products made locally, is aimed at supporting the local economy by establishing and maintaining a market for products and services that originate in the region.
Marsha Daughenbaugh, the alliance's executive director, said the program was initially focused on agriculture, but has evolved to promote all local producers and retailers.
"The product has to be made, produced and developed in Routt, Moffat or Rio Blanco County," Daughenbaugh said.
Daughenbaugh said the program is an outgrowth of a forum held in Craig in November 2004 and hosted by the Yampa Valley Economic Development Council, Yampa Valley Partners and the Community Agriculture Alliance.
"It became very apparent that local producers need avenues to local retailers," Daughenbaugh said.
The alliance is compiling an inventory of local producers and local retailers. A business-marketing plan has been developed and promotional materials such as "Made in Northwest Colorado" stickers have been made.
"We are still in the collection of data," Daughenbaugh said. "In the near future, there's no doubt in my mind we'll start connecting local producers with local retailers. I expect great potential. I see it having a ripple effect."
Nancy Mucklow, co-owner of Routt County Woolens, said there is a need in the area for such a program. Mucklow
said her company, which purchases wool from local sheep to make pillows, blankets and other items, was formed from the idea of supporting local producers.
"There's a lot of little people, but there's not a way to get the word out," Mucklow said. "It will also let people know what the valley is about."
Daughenbaugh said she doesn't expect the program to put any of the region's national retailers out of business, but hopes it will give local producers opportunities outside of craft fairs and farmers' markets to sell their goods. Kramer said retailers would benefit as well.
"Both locals and visitors want to buy local products," she said.
Yampa artist Nita Herold Naugle plans to participate in the program and said it would provide local producers "strength in numbers."
"We have great products right here in Colorado, in this corner," Naugle said. "It means a little more to buy something locally because there's a face behind it."
An annual membership with Northwest Colorado Products costs $25 for producers and $50 for retailers. Membership includes an initial package of promotional materials. Local producers, retailers or anyone interested in helping with the Northwest Colorado Products Program can call Kramer at 846-2969 or the Community Agriculture Alliance at 879-4370.