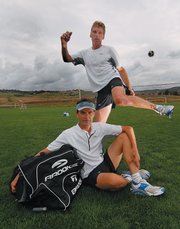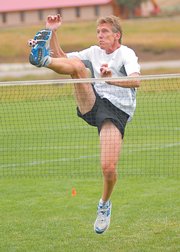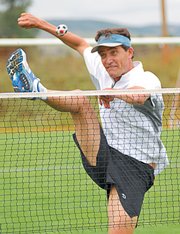 Steamboat Springs — Life's a kick for Bruce Guettich.
Next week, Guettich, who recently celebrated his 50th birthday, will travel to Lake Buena Vista, Fla., to make his 27th appearance at the IFPA World Footbag Championships, which will be held on the grounds of Walt Disney World. The Steamboat resident has been on hand for 27 of the 28 international footbag events. It's an achievement he treasures almost as much as the many top finishes he has collected throughout the years.
"I remember that I was pretty eager to play at my first World Championships," Guettich said. "I was in the intermediate category, and that was good. It was a great opportunity to get one under my belt."
That was back in 1981, and while Guettich is a little older now, he still has high expectations for this year's event in Florida in both the singles and doubles events.
"I'm definitely a better player now than I was back then," Guettich said. "I've got a lot more overall experience, which gives me a lot more savvy."
Footbag is similar to volleyball in that players must bump, set and spike the footbag over a 5-foot-tall net, but they can only use their feet. In singles, the players are allowed two
kicks per side, and in doubles, they have three kicks per side, but most alternate these kicks between the two players.
Guettich opened his career in the intermediate division that first year, and played in the open professional division in 1982. He quickly found success with the more elite group, placing third in singles at the 1982 championships.
Guettich said he never played volleyball, but admitted his experience on the tennis court has helped him during the years. He said his dedication to staying in top physical shape and his mastery of the fundamentals of the game continues to pay off every year at the World Championships.
Age has not been a factor, he said.
"I played a French kid a couple of years ago, and when we got done, he said playing me was like playing his father in badminton. He said he never knew where I was going to go, and that I ran him all over the court," Guettich said.
Throughout the years, Guettich has continued to grow as a player and also enjoyed consistently strong results at the World Championships along the way. He notched his second third-place finish in 2002, and he doesn't seem to be slowing down with age. Last year, he finished fourth in the singles in a field that included 73 players - the largest open field in the history of the event. He and partner Peter Shunny, a world overall champion in 1997, also placed fifth in the doubles event. In 2001, Shunny and his former partner Chris Siebert won the doubles title.
For the past several years, the two Steamboat players have been partners at the World Championships. Guettich said he was lucky to team up with a top-level player.
"If he wasn't here, I would have to go to Denver to find a player of his level to practice with," Guettich said. "Three hours is a little out of the way for a practice."
The two players will leave for Florida next week, and the World Championships are scheduled to take place Aug. 11 to 18. Fans can follow their progress on www.footbag.org.
Guettich said 224 players from 13 countries pre-registered for this year's championships. It's the first time in five years the World Championship will have been held in the United States.