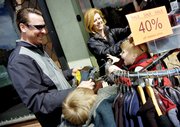 Steamboat Springs — Almost every curb, streetlight, sidewalk and storefront in Steamboat Springs' downtown corridor was scrutinized Thursday night during a public meeting to discuss future streetscape plans.
From Yampa Street north to Oak Street, and from Third Street west to 13th Street, a herd of Steamboat residents, notepads in hand, canvassed downtown with a probing eye.
"You all have the day-to-day experience of living in Steamboat I don't have access to," said Kristin Cypher, of the Britina Design Group of Arvada, which has been hired - at a cost of $439,000 - to design the city's Downtown Streetscape Improvement Plan.
"Main Streets are the heart of our communities," she said. "Not just from the standpoint of where the businesses are, where the civic buildings, but they also serve a very emotional and cultural purpose for people."
Edith Lynn Hornik-Beer, who was assigned to evaluate the downtown corridor between Ninth and Seventh Streets, said foot traffic down Lincoln Avenue is impeded by outdoor cafe seating along the sidewalk.
"We felt the buildings have the character of the old western town that Steamboat Springs is," she said. "We felt like that should be kept, but something needs to be done where the cafes are."
Tracy Barnett, director of Main Street Steamboat Springs, was assigned to survey the Butcherknife Creek area, and she suggested a public park at the Conoco Gas Station, Seventh Street and Lincoln Avenue, which currently is for sale for almost $3 million.
Barnett said she was disappointed with Thursday's turnout of about 30 people at the first of a series of scheduled public meetings to address the possible development of the city's downtown streetscape plan. However, she said the information gathered would make a profound impact on the direction of downtown.
"This is the first of four meetings, so we hope to have at least double of what we had tonight," she said. "This is such an important moment for the future of our city that I hope we gather as many opinions as we can."
Cypher said the next meeting, Aug. 30, also will be participatory in nature and will address the critical issues raised Thursday night.
"Right now, there is an incredible amount of work already done to study the downtown," Cypher said. "In the past 10 years, there have been quite a few studies that have addressed what you want to do in your downtown. We've never gotten to a place where those plans have turned into a physical design. That is where we are right now."
Jim Weber, the city's director of public works, said the city's Mountain Town Sub-Area Plan, adopted in 1999, spurred the need for downtown design improvements.
He said the sub-area plan was about a vision, but the Downtown Streetscapes Plan is the first step in the process toward implementation of improvements.
Ideas suggested Thursday included turning Fifth Street into a pedestrian walk-way leading to Howelsen Hill and a proposed Yampa Street entertainment district. Also proposed were more green space, parking decks - specifically at Eighth and Oak Streets - trash receptacles and improvements to Little Toots Park.
Cypher said all downtown improvements will be coordinated with the Colorado Department of Transportation, which will conduct asphalt work on Lincoln Avenue in 2009.
"As a CDOT right-of-way, Lincoln Avenue is for review of the Colorado Department of Transportation," she said. "They have been part of all our initial meetings, and we have been working with them and keeping them on board as we go through this process because, although we may have a lot of ideas, they will have their capacity issues we have to be responsible for."
Weber said the City Council would be presented with the Britina Group's final plan in December for approval, but funding the improvements would be decided at a later date.
This project is going to be fully encompassing the whole downtown corridor, he said. "We are going to work and evolve out of this. The intent is that nothing is safe - lights, banners, colors, benches, curbs, pavement structures - the whole gamut will be looked at to move this through and create a viable and energetic area."
Questions about the Downtown Streetscapes Plan should be directed to Weber at 871-8243 or jweber@steamboatsprings.net.
- To reach Mike McCollum, call 871-4208
or e-mail mmccollum@steamboatpilot.com