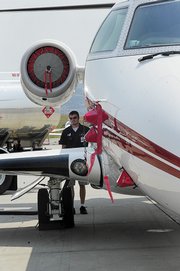 Steamboat Springs — From the outside, Spectrum Jet Center looks as unimpressive as any other hangar at Yampa Valley Regional Airport in Hayden.
A look inside reveals it is anything but. Leather couches and flat-screen TVs adorn a plush lobby at Spectrum, which has operated at YVRA since 1986 and services corporate and general aviation aircraft. Spectrum's interior is a reflection of its clientele, which includes celebrities and corporate executives.
"The corporate traffic here is tremendous," said Frank Hogue, Spectrum's chief financial officer. "It's part of the affluence coming to Steamboat."
Many in the Yampa Valley fear and bemoan a perception that Steamboat Springs is turning into another Aspen or Vail, but Hogue talks about "the Aspenization of Steamboat" with a smile on his face as he shows off Spectrum's operations and speaks of the "unbelievable growth" the multimillion-dollar company has experienced in recent years.
While increased commercial traffic at YVRA is often touted, Hogue said the increased corporate traffic has gone largely unnoticed, despite increasing at a faster rate.
In addition to servicing their corporate and general aviation customers, Spectrum is the designated supplier of fuel for all of YVRA's traffic, including commercial airliners. Hogue said that while the amount of fuel sold to commercial airliners has held steady in recent years at about 500,000 gallons a year, the amount of fuel Spectrum has sold to corporate planes has increased from 370,265 gallons in 2000 to 653,048 in 2006. Spectrum handles hundreds of landings a month, and is so busy during ski season that just keeping enough fuel on hand is a challenge.
"This is a happening place," Hogue said. "These corporate guys bring a lot of people. People don't realize."
And those people spend a lot of money, Hogue said.
But perhaps it is appropriate that Spectrum Jet Center flies under the radar; many of its customers value discretion.
"We try to protect their privacy," Hogue said about the celebrities who come through Spectrum Jet Center, which have included the late racecar driver Dale Earnhardt, actors Tom Hanks and Danny DeVito and country music star Alan Jackson.
In addition to privacy, Hogue said Spectrum's customers don't have to worry about lines or security. He said the company covers all aspects of customer service for its corporate clients, including catering and hotel reservations.
Hogue said he expects growth at Spectrum to continue steadily into the future.