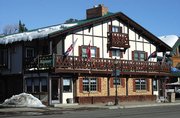 Steamboat Springs — The new owners of the Alpiner Lodge have no plans to tear down the 33-room motel at 424 Lincoln Ave. At least for now, they just want to put it firmly in the black.
"I looked at the property and said, 'If the occupancy was this (much) I could pay a mortgage,'" Jon Wade said. "We really did our diligence. We worked hard on this. Trust me, we're very careful."
Wade readily acknowledges he is not a hotelier. Instead, he is a broker owner at Colorado Group Realty. He and partner Chris Paoli put together an investment team that includes people from Steamboat Springs and other areas. They put the motel under contact in March for $3.1 million.
Wade said during a 16-year career with Hewlett Packard, he worked in finance and strategic planning.
"My title is Realtor, but I'm a businessman," he said.
He is convinced that by spending wisely on more hotel marketing and by polishing the image of the property, he can operate it at a profit. The previous owners had a different business model that influenced their management approach, Wade said. He said they had plans to develop a timeshare resort in Routt County and to use the Alpiner to house prospective buyers on sales junkets to Ski Town USA. Those plans have since been abandoned, Wade said.
"The previous manager is a great guy, but once it was up and running, no one was paying attention to details : no one was trying to bring up the game," Wade said.
At a quick glance in March, the pending sale appeared to fit a pattern in downtown Steamboat Springs. Wade's colleague at Colorado Group Realty, Jim Cook, has in recent years led development groups that acquired two older lodging properties, the Nite's Rest Motel and the Harbor Hotel. The redevelopment of those sites into luxury projects with a mix of residential and commercial units, is under way on Lincoln Avenue.
Tracy Barnett, director of Main Street Steamboat Springs, welcomed the news that the 33 rooms of the Alpiner would not be removed from circulation. The property has 58 beds, eight to 10 of them king size with a majority of double queens and one, two-room suite.
"We're definitely looking forward to some new condos coming on line" at Howelsen Place and the Afterglow, Barnett said. "But we need more nightly rentals downtown. When the Harbor Hotel closed downtown, it made a huge dent in evening business downtown."
The asking price for the Alpiner was $3.5 million. The two-story motel, which has parking lots on both sides of the building, had sold just 14 months earlier for $2.2 million. Before that, it sold for $1.54 million in October 2002.
Routt County valued the property at $2.3 million for tax purposes last spring and attributed $1.9 million of that to the land and $391,000 to the building.
Wade said he and his partners can envision several ways the purchase of the Alpiner can lead to business success.
For now, he said, they intend to capitalize on the number of businesses and attractions that are anticipated to arrive in the downtown commercial district within the next couple of years.
"Would I have an interest in this property if it were in Boulder?" Wade asked rhetorically. "Probably not. But there are a lot of people spending money to increase the experience here."
Wade said the motel will be upgraded, but his partners do not plan an extensive remodel.
"We'll do various touch-up things that will make visible differences that make you feel good about staying there," Wade said. He thinks the property can project the aura of a classic ski hotel.
A total of $3,000 was spent on marketing the Alpiner last year. Wade said he intends to bolster that effort with a functional Web page that allows online reservations.
"Within a year, we'll have the hotel running a lot better," Wade said.
One last detail: The new owners plan to restore the international flags that formerly flew from the façade of the Alpiner. He hopes the brightly colored flags will announce the hotel once again has owners who care about its future.
- To reach Tom Ross, call 871-4205
or e-mail tross@steamboatpilot.com