Volleyball, football open with conditioning camps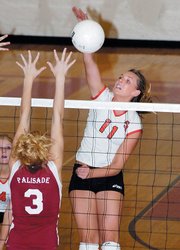 Steamboat Springs — The Steamboat Springs High School volleyball and football teams will hold optional conditioning camps starting Monday.
The volleyball camp will take place from 9 a.m. to noon Monday through Thursday. The camp is free and open to any incoming Steamboat Springs High School students.
Head coach Wendy Hall said she's holding the camp for several reasons. First and foremost is to get a head start on the fall season.
"It gets them through that soreness of the first week," said Hall, noting she replaced her summer camp with the conditioning camp this year. "It's so the kids could get a jump on the season."
Hall said the camp will focus on a lot of skill work and ball handling.
In addition to 2-on-2 and 3-on-3 drills, Hall said a portion of the camp will focus on conditioning.
"It's trying to get their volleyball muscles going and into shape," she said.
On the football field, Steamboat head coach Aaron Finch said the Sailors' conditioning camp - which starts at 5 p.m. and runs Monday through Friday - will be just that.
"We use this for not a whole lot of football, but just to get the legs back," Finch said.
The camp will focus specifically on flexibility, speed and agility drills.
Finch said the hope is once actual practices begin, players will be in good enough shape to turn their attention to football.
While the Sailors have participated in some 7-on-7 drills with Hayden and Thunderridge high schools, Finch said an important part of the season is the conditioning.
"There's no way to get into football shape without running," he said. "Next week is all about conditioning."
The conditioning camp will conclude Friday with the annual timed Howelsen Hill climb. The fastest athlete to the top is presented with an engraved plaque.
Official practices for both teams begin Aug. 13. The football team opens the season at Kent Denver on Aug. 24, while volleyball opens at a tournament in Glenwood Springs on Aug. 31.
- To reach Luke Graham, call 871-4229
or e-mail lgraham@steamboatpilot.com