Tom Ross: Reservations are hard to come by at Stagecoach Dam Cafe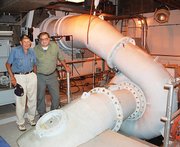 Tom Ross
Tom Ross' column appears Tuesdays and Saturdays in Steamboat Today. Contact him at 970-871-4205 or tross@SteamboatToday.com.
Find more columns by Tom here.
Steamboat Springs — The service at the Dam Cafe is really slow, but at least the ambience is industrial.
My pal John Fetcher invited me out to lunch Friday at a little out-of-the-way spot built into the base of the Stagecoach Dam. He eats lunch there every Friday.
I had never dined at the dam before and was pretty excited until Fetcher advised me to pack a sandwich.
"What kind of restaurant is this?" I wondered out loud.
We were greeted warmly upon our arrival by the manager of the joint, Dan Ellertson. There were only four chairs and a large bank of electronic readouts dominated the dining room. It was humid and hellishly noisy any time someone made the mistake of opening the door to the "kitchen."
Stagecoach State Park Manager Craig Preston stopped by to do some business with Fetcher and stayed for lunch. I tried to talk him into trading his leftover enchilada for my roast beef sandwich, but he would have none of it.
We were about 15 minutes into our conversation when I realized I wasn't at a restaurant. Fetcher had invited me to dine at a hydroelectric power plant on a day when it was achieving maximum output - 800 kilowatts per hour. Ellertson manages the dam at Stagecoach and the power plant it contains. Fetcher is the longtime manager of the Upper Yampa Water Conservancy District.
No wonder he was reluctant to describe the daily specials.
As it turned out, Friday was a fine day to brown bag it at Stagecoach Dam. A heavy rainstorm overnight had filled the creeks within the 228 square miles that Stagecoach Reservoir drains, and the inlet on the Yampa River had swollen from 80 cubic feet per second to 120 cfs overnight. That allowed Ellertson to open the valves and allow maximum water to flow through the turbine and power the generator.
"I've got a full tub," Ellertson said. "It rained really hard last night between 4 and 5 a.m. It rattled the roofs."
Recent rains have turned around what looked to be a grim water year at Stagecoach. The snowpack in the reservoir's drainage was just 70 percent of average last winter. Yet, the reservoir is just 9 inches below capacity right now, and farmers and ranchers have begun to turn their irrigation off as they cut hay meadows.
Stagecoach won't be receiving any bonus water from Yamcolo Reservoir upstream near the Yampa's headwaters. That reservoir is significantly drawn down and will take a while to refill. But Ellertson and Fetcher are confident they'll be able to release more water later this month.
"I've had good inflow the last couple of weeks," Ellertson confirmed. "If the Yampa at Fifth Street is running at 120 cfs, the water we're releasing represents three quarters of the Yampa right now. There are 12 creeks below us that feed the Yampa. All of the snow is gone from the Divide, so the water in those creeks is from springs.
"If John hadn't built these reservoirs, the river would be hurting."
On Aug. 1 every year, the state of Colorado allows Ellertson to revise the minimum flow he must release from the dam down from 40 cfs, where it stays for nine months of the year, to 20 cfs. The minimum remains at 20 cfs until November.
As a practical matter, however, Stagecoach expects to release more water than that late this summer and fall. The strong inflows already have allowed Ellertson to release additional water during the past two weeks.
Later this month, Ellertson likely will drop the reservoir 4 to 5 feet as power utilities call for more water. The coal-fired power plants in Hayden and Craig each require 30 cfs a day to make steam to drive their generators, Ellertson said. If the Yampa at Craig falls as low as 110 cfs, the state will require the power generators to make a call on water they own in Stagecoach, Steamboat Lake and Elkhead Reservoir. As a result, the flows in the Yampa where it runs through Steamboat Springs will increase.
I learned a great deal during lunch at the Dam Cafe on Friday, and I enjoyed the good company, but the dining room leaves a lot to be desired.