The music never stops
Shakedown Street keeps Grateful Dead's music alive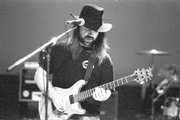 Past Event
Friday, December 21, 2007, 10 p.m.
Mahogany Ridge Brewery & Grill, 435 Lincoln Ave., Steamboat Springs
21+ / $5
Steamboat Springs — Shakedown Street might have a longer career than the band it covers.
Twenty years ago, five musicians played together at an open mic night in Manitou Springs. After a couple of cover songs, the group hit it off when it played a cover of a Grateful Dead song. The band's career was born that night.
"We must have played a Dead song, and people just went crazy," said Ted Galloway, Shakedown Street's only remaining original member.
Throughout the years, Shakedown Street's lineup morphed to eventually include current members Joe Weisiger (keyboards and vocals), Trevor Davis (drums and vocals), Jim Allard (bass and vocals) and Jake Wolf (drums and vocals).
"It's just happy, timeless music," Galloway said. "I'm a Deadhead, it's what I do."
Shakedown Street's music styles include rock, country, bluegrass, jazz and swing. From each member's diverse musical background comes a common love: the Grateful Dead.
"We get anyone from nuns to insurance salesmen at our shows," Galloway said. "More and more, we're getting really young deadheads, kids who probably weren't even alive when (legendary Grateful Dead frontman Jerry) Garcia was."
Similar to the Dead, Shakedown Street never plays the same set twice and never repeats a song within five or six shows.
"When bands play the same set show after show, it must get boring for the audience, and it definitely gets boring for the band," Galloway said.
Shakedown Street has been nationally recognized as one of the longest-running Grateful Dead cover bands, and it has toured all across the country. The band currently keeps busy touring Colorado.
"It's hard going outside the place we all love so much," Galloway said. Shakedown Street has played a dozen gigs in Steamboat, the first one being at Old Town Pub in the late '80s.
Shakedown Street has even shared the stage with Grateful Dead members Vince Welnick and Bob Weir, and Galloway boasts of bringing together 38 couples through their shows.
"We make a lot of people's lives better because we love the Dead's music so much," Galloway said. "I'll do it until I keel over."