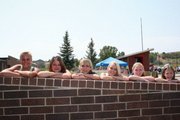 Steamboat Springs — Seven Hayden Middle School students are almost halfway to their goal of raising just more than $18,000 to travel to Washington, D.C., for the People to People World Leadership Forum in October.
Eighth-graders Brette Frentress, McCoy Howe, Erin Koehler, Emily Mahanna, Mallory McGowen, Jacie Temple and Aspen Zabel were chosen to participate in the forum, which was founded by President Eisenhower after World War II as a way to promote peace through understanding.
The girls have raised more than $8,000 so far. Some of the money has come from donations, but most has come through the girls' own hard work - selling flowers, washing windows, etc.
That work will continue this week; the girls are selling Krispy Kreme Doughnuts in Hayden, Craig and Steamboat Springs, beginning at 6 a.m. today, Friday and Saturday, or until the doughnuts run out. In Hayden, the girls will be selling doughnuts at the Hayden Middle School parking lot, Hayden Town Hall and the Hayden Elementary School baseball fields. In Craig, they will sell at the vacant lot west of City Market and at Loudy Simpson Park. And in Steamboat, doughnuts will be sold in front of Safeway.
Aspen's mother, Debbie Zabel, said she is confident the girls will raise the money they need for the trip.
"There's no question we will reach the goal," Zabel said. "It's just a question of how much more work they have to do."
If raising the money isn't enough work, the girls had to write a paper and go through a selection process to qualify for the trip, and they will have to complete assignments and a study guide before they leave for the conference. The girls will miss a week of school in October, but Erin is quick to point out they will have to make up all the work they miss. Nonetheless, Erin said she is excited for the trip.
"My friend last year had gone on it and said it was really fun," Erin said. "My parents have told me how neat Washington, D.C., is. And I get to go with my good friends."
Kim Temple said she hopes her daughter Jacie will gain "a real appreciation for the history of this country" on the trip and hopes it will help her daughter take a leadership role with her peers.
Hayden students who went on the same trip last year received donations from the Hayden Town Board, the Routt County Board of Commissioners and the Routt County Republicans and Democrats. Zabel said this year's students plan to request the same donations this year, but decided to focus first on raising the money themselves through work.
Donations may be sent to the Hayden Middle School, People to People Forum Participants, P.O. Box 70, Hayden, CO 81639.