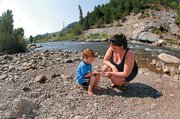 If you go
What: Public meeting to discuss plans for improvements to man-made structures on the Yampa River
When: 6:30 p.m. Thursday
Where: Howelsen Hill Lodge, 845 Howelsen Parkway
Contact: Call Craig Robinson, open space supervisor for the city's Department of Parks, Open Space and Recreational Services, at 879-4300 for more information.
On the 'Net
Learn about Ecological Resource Consultants, the Evergreen-based consultants hired by the city to conduct a study of man-made structures in the Yampa River, online at: www.erccolorado.n...
Steamboat Springs — Fishermen, kayakers and any member of the public can bring suggestions about improving flows in the Yampa River to Howelsen Hill today.
The Steamboat Springs Parks, Open Space and Recreational Services Department is hosting a public meeting to kick off discussion about the Yampa River Structural Master Plan, which will assess all man-made structures in the river - such as Charlie's Hole near Bud Werner Memorial Library and fishing spots along River Road - to analyze how those structures function in various flow conditions. Issues including bank erosion and stability, riparian habitat, vegetation and wetland areas will be addressed.
"Health of the river is the number-one priority, and recreation is a secondary aspect that we're hoping to get along with that," said Craig Robinson, the city's open space supervisor.
The city hired Evergreen-based Ecological Resource Consultants in late June to conduct the study at a cost of $68,710.
Ecological Resource has previously conducted similar studies on the Eagle River, the San Miguel River and the Blue River.
Private property owners along the river are welcome to participate in the project, Robinson said.
Robinson said the consultants will provide invaluable input on river structures in and around Steamboat Springs - most often, boulders placed in the river to alter flows - that have not been looked at for years.
"I think we'll have fishermen that will have a lot of information about areas that fish really well, where diversion structures are working or about areas where they have some concerns," he said. "Mostly, we're looking to gather public input to find out what people would like to see out of this project."