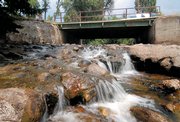 Steamboat Springs — City officials may close the small Yahmonite Bridge until next summer.
Jim Weber, Steamboat Springs' director of public works, said the city intended to fix the Old Town bridge this summer but could not find a contractor after advertising late in the spring. The short, aging bridge crosses Soda Creek at the northern end of Ninth Street, which merges with Aspen Street and then Yahmonite Street to the west.
"There are some structural issues associated with the bridge," Weber said. "There may be a possibility that the bridge could be closed until it can be replaced."
Weber said a 2006 report from the Colorado Department of Transportation cited "significant deterioration" of one of the abutment walls under the bridge, reducing the load capacity of the structure.
"One corner of the bridge really isn't bearing on anything," Weber said.
Weber estimated the bridge was built "50 to 60 years ago."
"The bridge is classified as structurally obsolete," Weber said. "That style of bridge isn't designed anymore."
On Tuesday, a sign at the bridge set a weight limit of 10 tons, or 20,000 pounds.
Ed Dingledine, transportation director for the Steamboat Springs School District, said school buses weighing about 32,000 pounds each carried as many as 40 children across the bridge on a daily basis during the recently-completed 2006-07 school year.
But Dingledine said the bridge is so short that lengthy school buses never relied entirely on the bridge for carrying weight.
"If the bridge was 40 or 50 feet long, I would be more concerned," Dingledine said. "But here, the wheelbase is such that loads aren't a factor."
Dingledine said even if the bridge is not closed, he likely will adjust the one school bus route across the bridge for "peace of mind."
Weber said the city hopes to consult with the Kirkham Michael engineering group before deciding whether to close the bridge until it can be repaired next winter. Temporary repairs such as concrete work could be a short-term option, Weber said.
Reports that homeowners near the Yahmonite Bridge received a notice setting a bridge closure date of Aug. 20 could not be confirmed Tuesday.
In late summer and fall of 2006, local company Duckels Construction completed repairs to the Pine Street bridge that spans Soda Creek between Ninth and 11th streets.
Weber has said a 10-ton weight limit is "more than enough" to handle any residential or private vehicles on the Yahmonite Bridge.
- To reach Mike Lawrence, call 871-4203
or e-mail mlawrence@steamboatpilot.com