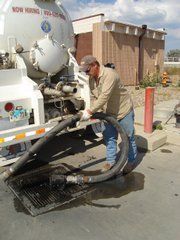 Craig — Truck driver Patrick Maki drove an hour and a half to reach the Craig Wastewater Treatment Plant on Monday.
It was his second run of the day, bringing wastewater from Wyoming to the plant.
Finished with his off-loading, Maki drove back to Wyoming on Monday, but he won't be leaving Craig for long. He has three loads planned for Tuesday.
A 200-person man-camp - hosting crews working on natural gas rigs north of Baggs, Wyo. - generates six truckloads of the wastewater each week. The Craig facility is the closest plant large enough to process the waste.
"Loads coming in from out of the county have picked up tremendously," said Mike Frazier, city of Craig Treatment/Collection Manager. "They generate enough sewage that small towns can't handle it."
More trucks from south of the county are arriving, as well.
Towns like Rifle, Meeker and Rangely don't have the capacity to process the 5,000-gallon truckloads that arrive daily at the Craig facility.
The city collects $800 to $850 per load for out-of-county waste, Frazier said, and the plant has the capacity to accept more.
"This plant was designed as two separate plants," he said. "We are currently at about one-half capacity. We can switch over and use the whole plant, but the costs go up."
Frazier said the plant is most efficient when running near capacity, as it is currently with half the plant in operation.
The man-camp waste takes additional electricity and chemicals to break down and treat due to its content, he said.
H.P. Rentals of Riverton, Wyo., owns Maki's truck, and the energy services company is the main, out-of-county contributor of sewage to the Craig treatment plant.
The sewage comes from vaults at the camps and is four times stronger than town waste, Frazier said.
"Once in the plant, it mixes with domestic sewage from town," he said. "There is an immediate demand for oxygen into the system."
It takes the wastewater plant "a day or so," to catch up with treatment after an out-of-county load is dumped at the facility.
Local haulers also add about six truckloads of sewage to the plant each day.
The city increased the cost of dumping out-of-county waste last year, and that has resulted in more dollars coming into the plant.
In June, revenue from waste received at the plant reached $19,500, but that money is not all profit for the city.
"Our electric bill for the year is around $120,000," Frazier said. "We have five employees here, and two summer helpers."