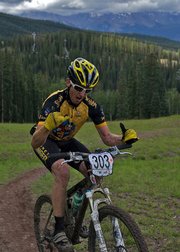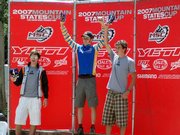 Steamboat Springs — Nate Bird and Bryce Gordon hit the road this weekend and rode for a pair of vindicating regional mountain bike titles.
Hungry for wins after a pair of disappointing finishes at the July 14 and 15 Mountain States Cup Rocky Mountain Regional Championship Series races at Snowmass Village, Bird and Gordon both took home division wins at the Yeti Cycles Full Tilt in Telluride series event, Saturday and Sunday in Telluride.
"It was pouring rain all day Friday, so it made the climbing brutal, where you had to sit down, just getting caked in mud," Bird said of Saturday's Shimano T-Hell-U-Ride Cross-country race that included three 6.5-mile loops. "It was the most fun we've had on some nice, rolling singletrack. I felt good, like I could've gone out for more laps."
Bird won the men's expert 25 to 29 division in 2 hours, 8 minutes and 43 seconds, a full five minutes ahead of the next-closest expert division rider. With the win, Bird said he accomplished his season goal of moving up a division, to semi-pro at the next series stop, Aug. 18 and 19 at Eldora Mountain Resort.
On Sunday, Bird added another victory to his collection in a, "short, brutal and steep" hill climb event. After a mid-pack cross-country finish Saturday, Gordon responded with a win in the hill climb (1,500 vertical feet in 2 miles) in the junior expert class that Bird labeled as, "just as competitive as the expert class."
Sean Geisler, 13, racing up in a junior sport division with 15- to 18-year-olds, took fifth place in the cross-country event.
Oak Creek resident Jamie Morgan was planning on making the trip to Telluride as well, but decided at the last minute to stay closer to home and compete in the Laramie Enduro 111K.
He was one of 20 Steamboat Springs competitors to make it to the grueling 70.5-mile race and he made the trip worthwhile.
"It was pretty epic," Morgan said. "It was one gigantic loop with a whole series of loops that double backed on one another. I had no idea where I was or what direction I was riding. It was so long, and I had so much energy drain that there was no real cognitive abilities going on."
But Morgan kept riding. With more than 30 miles to go, he pulled away from the contending pack and made a solo run at his, "anaerobic threshold." Four Fig Newtons, a few packs of energy gel an estimated 5,700 calories later, Morgan crossed the finish line in 5 hours, 38 minutes, 39 seconds, earning him third place overall and second in the men's pro/expert 35-plus division.
"I've never pushed my body that hard for that long - third still felt like a victory," Morgan said.
Adam Spector finished just behind Morgan, third in the same division in 5:49:51. Essam Welch had the next-fastest Steamboat competitor time, riding to a sixth-place men's pro/expert under-35 finish in 5:59:20. Brad Bingham took eighth in 6:02:30.
Katie Lindquist and Karen Tremaine made their mark on the women's finish board, finishing in third (6:47:28) and fourth (6:55:10), respectively, in the women's pro/expert division.
- To reach Dave Shively, call 871-4253
or e-mail dshively@steamboatpilot.com