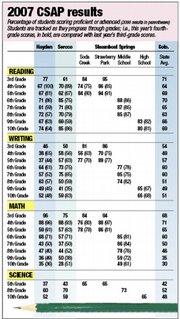 Steamboat Springs — The Steamboat Springs School District again outpaced state averages on the Colorado Student Assessment Program tests.
However, district scores did not change significantly from previous years, and administrators said the district can still do better.
"Steamboat's schools traditionally perform well above state averages on CSAP," Superintendent Donna Howell said Tuesday in a news release. "This year, state averages are essentially flat across the board with increases and decreases being very slight. Steamboat Springs' schools are once again outperforming state averages by healthy margins in all areas."
The CSAP tests, designed to measure and monitor student and school achievement in relation to the state's content standards, are a primary component of state-issued School Accountability Reports. All Steamboat schools rated "high" or "excellent" in those reports last year.
Despite the strong scores, district administrators said they are far from satisfied.
"In general, with any type of decrease, we will look deeper in our data to see what skills they may not be acquiring," said Howell, who noted significant gains were made in science and reading. "Our goal is to increase student achievement - to see more students achieving at a higher level."
Howell said district officials prefer to compare student scores from year to year rather than by grade level. For example, the reading scores of fourth-graders are compared to their scores last year as third-graders.
Using that method of comparison, CSAP scores remained flat in most categories. Reading scores experienced little significant increases or decreases from last year.
Bright spots in reading included progress for Strawberry Park and Soda Creek elementary school fifth-grade students, of which 90 percent tested advanced or proficient, compared to 86 percent last year. Looking at the school-level results, 94 percent of Strawberry Park's fifth-graders read at an advanced or proficient level, while 84 percent of Soda Creek's fifth-graders tested at advanced or proficient. Statewide, 69 percent of fifth-graders scored advanced or proficient in reading.
Elementary school students reported modest fluctuations in writing scores by grade from 2006 to 2007. Third-grade students at Strawberry Park Elementary School reported a 7 percent drop in advanced and proficient reading levels in 2007, but Steamboat Springs High School student scores remained virtually unchanged.
"We have mixed feelings in reviewing the 2006-07 CSAP data," Steamboat Springs High School Principal Mike Knezevich said.
"There were gains in some areas, some areas remained the same and finally, some scores showed a decline. Obviously we want to see continued improvement in all areas."
In math, the school district scored between 11 and 36 percent higher than state averages, but the data show a significant drop in scores once students enter high school.
Ninth-grade students tested 59 percent proficient and advanced, compared to 72 percent while they were eighth-grade students at Steamboat Springs Middle School. About half, or 49 percent, of 10th-grade students were advanced or proficient in math compared to 61 percent the year before.
Students progressing through Steamboat Springs Middle School saw slight gains in math, but the school scored about 25 percentage points higher than the state average.
"We are very happy with our results, especially our math achievement," Steamboat Springs Middle School President Tim Bishop said.
Howell said the district's new curriculum director, JoAnne Hilton-Gabeler, will conduct a full analysis of the CSAP scores once she begins her duties later this month.
"We'll look at all of the numbers - specifically the declines," she said. "We'll look and see if there have been changes in tests. We'll be looking at specific areas in mathematics and where we may modify curriculum or change strategies. Our ultimate goal is to have continuous improvement."