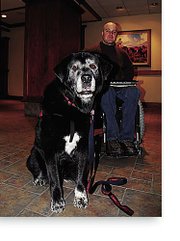 Steamboat Springs — On Friday, Craig Kennedy of Steamboat Springs got all of the assurance he needed that his latest book, "Access Anything: I Can Do That!," will do well.
Kennedy and his wife and co-author Andrea are on a book tour that began Friday in New York. He said the reaction from people to the book show they're making a difference.
"You get everything from 'It's about time' to people coming up and going into tears," said Craig Kennedy, who lost the use of his legs 11 years ago in a skiing accident. "Today I had a long talk with one lady who never knew anything like this was out there. She was in tears: and to be honest, having one person react like that makes it all worth it."
The Kennedy's latest book was born out of a series of motivational interviews they did with some of the top adaptive athletes in the country. The "informational and inspirational" book, highlights 45 adaptive sports, the equipment used, modes of transportation, rights and laws people have and what to expect, what to bring with and what disabled people should watch out for. The book also features six interviews from the motivational interview series.
"People look at me and don't realize how lucky I am," Craig Kennedy said. "There are a lot of people without disabilities that are worse off than I am. I feel lucky to do this."
The Kennedy's started Access Anything in 2003 and published their first book, "Access Anything Colorado," in 2005.
They started publishing books after taking a trip to Alaska in 2002. During the trip they realized there wasn't enough information about traveling for people with disabilities, and if there was information it often was incorrect.
Their 2005 book did well, Craig said, but since the book focused on Colorado sales were generally limited to the region.
So after talking with their publisher, they decided the new book would be more valuable for a larger spectrum of people with disabilities.
On Friday - the first day of the expose in New York - Craig said they sold more than 50 copies.
The stop in New York begins a torrid schedule for the couple. After leaving New York on Sunday, they'll head to Washington, D.C., Maryland and Virginia for book signings before returning home. Then on June 13 the couple heads to Southern California for a book tour that wraps up with the No Barriers Festival - one of the largest festivals for people with disabilities - on June 28 in Squaw Valley, Calif.
Although Craig said they are focused on the book at hand, he said they hope to publish a book a year with California, Hawaii, Alaska and New England all possibilities in the future.
- To reach Luke Graham, call 871-4229
or e-mail lgraham@steamboatpilot.com