On the 'Net
For more information about Triple Crown, including schedules of summer events, visit www.triplecrownsp.... Read the economic study assessing impacts of a regional sports complex, potentially to be built in Hayden, on the Web at www.yvedc.org.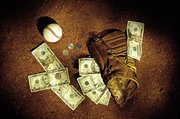 Steamboat Springs — From June 29 to July 2, the Summer Nationals softball tournament hosted by Triple Crown Sports will bring more than 100 teams from across the country to Routt and Moffat counties.
That's a conservative estimate.
"It's this early, and we've already got 75 to 80 teams committed," Triple Crown softball director Craig Schumacher said Friday. "We're just starting to promote it - we could end up at 150. Right now, we're hoping for at least 120 teams or more."
Schumacher said 140 teams competed at the Spring Nationals tournament in Las Vegas last month. Summer Nationals will bring at least 2,000 players and family members to Steamboat on the weekend before the Fourth of July.
"You've got at least 12 to 20 people per team," Schumacher said. "And for Steamboat this year, we're doing a four-game guarantee, so that's easily over 400 games. That's a ton of ball being played in one weekend - that's bringing a lot of dollars into Steamboat."
Triple Crown Sports is a Fort Collins organization that has made baseball and softball tournaments a summer staple in Routt and Moffat counties. Primary among those tournaments is the multi-weekend Triple Crown World Series, which brought 350 teams to Steamboat in 2006 and this year will run during a four-week span from mid-July to mid-August. The events' economic impact is the subject of a recent study prepared for the Yampa Valley Economic Development Council by Denver consultants Corona Research, Inc. According to the study, the tournaments bring about 32,000 visitors and $1.19 million in sales and lodging tax revenues to Northwest Colorado each summer.
The actual dollars Triple Crown brings to local businesses, restaurants and hotels is likely far greater than the tax revenues. Last summer, Brian Day, who at the time did not want the name of his business published, said his downtown Steamboat store racked up $21,000 in sales of high-end apparel during one Triple Crown weekend.
Fields of dreams?
Whether those revenues will stay in the region - along with the increased traffic, noise and bustle that many local residents find intrusive - once again is coming to the forefront of local debate. Triple Crown's contract with the city of Steamboat Springs is scheduled to expire after the summer of 2008. The contract with the town of Hayden, which currently supplies two fields for games, expires after this summer. Triple Crown president and founder Dave King, who could
not be reached for comment this week, has said he will not sign another contractual agreement unless more fields are built in the area.
King could be sticking around.
The Corona Research study says losing Triple Crown would cost Northwest Colorado governments more than $43 million in tax revenues during the next 25 years. Conversely, expanding Triple Crown could bring more than 100 new jobs and about $11 million to the region during the same time period. Such data supports construction of a regional Northwest Colorado Sports Complex near Hayden.
But some Hayden residents don't share that support, and say the town might not be ready for such a large facility.
"We can't find the workforce to fill what we have now," Hayden resident Eva Gibbon said at a public meeting at Hayden High School, attended by about 20 people Wednesday night. "That's my biggest concern - getting something in there without the support system."
"How do we measure our quality of life?" added Eva Gibbon's husband, Hayden Town Board member Ken Gibbon.
If you build it
Local developers Dave Bruni and Ron Sills are offering to donate a 140-acre site southwest of Yampa Valley Regional Airport, adjacent to Hayden town limits, for a new, $9.6 million sports complex that could house 14 fields or more.
"We are committed to the town of Hayden and Northwest Colorado," said Bruni, who is president of Mountain Adventure Property Investments, LLC, and owns The Villages at Hayden subdivision adjacent to the potential sports complex site.
Development Council administrator Winnie DelliQuadri said the site could be accessed by new roads, such as the proposed Hayden Parkway, which would prevent traffic en route to the sports complex from passing through residential neighborhoods in Hayden.
The Development Council is involved only with the Corona study, and has no involvement with proposals to develop a sports complex.
Sills, a partner with 4S Development, said because of existing wells and water rights, "we have all the water we need" to operate and maintain fields at the complex.
But Corona consultant Kevin Raines acknowledged while such a complex would "presumably change spending patterns" of Triple Crown participants, and bring significantly more business to Hayden, case studies in Corona's research may not directly correlate to the West Routt town.
"In our case studies, we could not locate a town as small as Hayden that has a complex as big as this," Raines said. Corona examined sports complexes in Park City, Utah; Liberty, Mo.; and Southaven, Miss.
Raines said all three cities are "overwhelmingly supportive" of results from the new complexes.
In Colorado, the Aurora Sportsplex is a 12-field complex in the large metro-area city.
"I ran a 93-team tournament in two days there," Schumacher said of the Sportsplex. "It would be huge to have a complex of that magnitude in Hayden."
Will they come?
The site proposed for the sports complex currently is in unincorporated Routt County. The Routt County Board of Commissioners, including Development Council member Doug Monger, have said although they may contribute to initial construction costs for a complex, they will not pay for ongoing operations and maintenance of the facility.
"This thing will never get built unless there is a group of people who come together and work out the financing," DelliQuadri said.
Hayden Town Manager Russ Martin did not offer a position as to whether the site could be annexed into Hayden.
Although Commissioner Diane Mitsch Bush raised concerns last week about the use of state income averages in the Corona study, citing potentially inaccurate findings, Raines said Wednesday he mistakenly relayed information about Corona's data.
Northwest Colorado income averages were used for four of six categories in the study, Raines said.
The Development Council and Corona staff will make their final presentation of the study May 15 to the Steamboat Springs City Council.
"Now, regardless of what your opinion is, there is additional information on the table," DelliQuadri said.