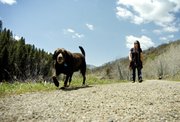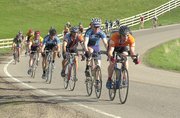 Steamboat Springs — It's an odd time of year when you can look out at the sun-soaked green valley floor and decide to go for bike ride, only to have it inevitably shut down the second you head off-road, up the mountain and onto the melt and the mud.
"People are chomping at the bit for some singletrack, but I never encourage people to ride for another couple of weeks," Routt County Riders president Brad Cusenbary said. "It can get deteriorated before the season even starts. A quick storm out at Mad Creek can easily soften it up and rut out the trail."
To get the mountain biking fix in, Cusenbary suggests heading west to some of the typical spring mountain biking meccas of Fruita and Moab. He hopes the suggestion will steer people away from some of the lesser-known bike destinations, such as Vernal, Utah, where he headed this weekend.
"Fruita has become so popular that it's hard to find a camp spot," Cusenbary said. "Vernal's not super technical, but it's not crowded, like Fruita was seven or eight years ago."
Shawn Scholl wants to know why people have been driving such far distances when they can get practically limitless, Fruita-like riding an hour from Steamboat Springs.
The Kremmling native and owner of Big Shooter Coffee can't believe he never sees fellow bikers on what he calls the "hero dirt" that fills the vast Bureau of Land Management public lands north of the small Grand County town.
"It's been good for over a month," Scholl said. "Just high desert dirt and sage, no trees, endless gullies, climbs and two-track roads. You can make a loop as big as you want, and the area on the cliffs right above town is just scratching the surface."
Scholl said the best places to access the visible rides are from Skyline Drive (Grand County Road 227), two miles west of Kremmling on U.S. Highway 40, or right from the BLM Kremmling Field Office (2103 E. Park Ave.), where trail designation maps can also be found.
Of course, the easiest solution to cure the riding itch is to stick to the roads until the trails harden up. Cusenbary suggested the loop on hard-packed dirt roads around Emerald Mountain that could satisfy road or mountain bikers.
"It's a nice time of year to be on your road bike because there's less traffic versus during the height of the tourist season auto traffic," Cusenbary said.
For Barkley Robinson, road riding has never been better since the last two dirt sections of Twentymile Road (Routt County Road 33) were paved in late 2006.
"It's probably my favorite ride," Robinson said. "That section between the coal mine and Oak Creek, that's the best road riding in the county - there's three good climbs and no traffic."
Routt County Riders vice president Robin Craigen said the Tuesday Night Road Rides, coordinated by Robinson, will now be expanded to include a Hard Saturday Ride and a Long Sunday Ride. The growing group rides, which number between 30 to 50 riders and are split into different ability levels, can provide the necessary interim conditioning while mountain trails dry.
While Kremmling has its "hero dirt," Steamboat's Ken Schomaker thinks locals still have time to take advantage of the snowshoeing opportunities from ample blankets of "hero snow."
"I call it that because it tends to freeze overnight, so in the mornings you can walk anywhere without sinking and don't really have to worry about avalanches," said Schomaker, who guides snowshoe tours for Rocky Mountain Ventures and recommended the easiest snowshoe access hikes from Rabbit Ears Pass. "You just need to recognize depressions and watch out for the meadows as creeks underneath start to melt and drain."
Kent Foster, recreation program manager for the Hahn's Peak/Bears Ears Ranger District of the Routt National Forest, reminded regular hikers to stick to lower elevation trails such as the Spring Creek, Mad Creek and Little Bear trails.
Hikers may not have much choice. Foster said the Forest Service has not opened the Seedhouse or Elk Park roads to motorized traffic yet, but is aiming to have them open by Memorial Day Weekend.
"The flowers are blooming and the grass is green, but you go up 1,000 feet and there's still a ways to go - you got to be patient," Foster said, reminding folks to be aware of elk and deer that are also waiting for the melt in order to transition to their summer ranges. Call the forest service for road updates at 879-1860.
- To reach Dave Shively, call 871-4253
or e-mail dshively@steamboatpilot.com