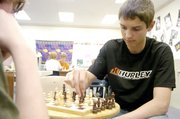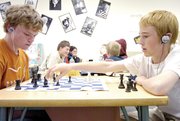 Oak Creek — The key to any successful gathering is popcorn.
And the Soroco Middle School chess club credits many an energizing afternoon chess game to the amount of popcorn the club consumes from 3:20 to 4:15 p.m. every Thursday.
"We try to support at least 1 percent of the popcorn industry," said chess club founder and current Soroco Middle School English teacher Nick Marzano. "We're definitely putting some kid through college, because popcorn is a staple of the chess club."
Marzano, a former AmeriCorps volunteer at Soroco Middle School, began the club as a way for the students to spend their afternoons staying out of trouble by trying something new.
In its second year, the club has steadily grown to about 15 members, though track season has robbed the club of some its players.
"There's a fantastic benefit to playing chess," Marzano said. "It's a mental exercise, and it's sort of a credit to the endearing nature to it that (the students) are still hooked on it."
Eighth-grader Pie Lombardi said the mental aspect to playing chess is only half the game.
"It's a good chance to get together with friends, plus it makes you think," he said.
Cristie Scott, the school's current AmeriCorps volunteer, took over the chess club after her World Arts and Culture Club ended last month.
"I was glad to carry it on because the kids enjoy it so much," she said. "They really appreciate the opportunity to just come and hang out and play chess, which they like to do."
And eat popcorn.
"Yeah, there's a lot of popcorn that's eaten here," Lombardi said. "Various brands, too, like cheese, butter, kettle and on one occasion, caramel."
Marzano said he thinks the middle school chess club is such a hit because the school is small and the students try "a little bit of everything."
"My favorite thing about it - and I tell the kids this all the time - is that half the football team's offensive line plays chess," he said. "There isn't that stigma associated with chess here that you might find in other schools. The students are really comfortable and excited to be good chess players. They embrace the image of the chess player and have a great sense of humor about it."
Lombardi agreed.
"This school is too small to have 'nerds' and 'popular kids,'" he said. "We all just mix together."