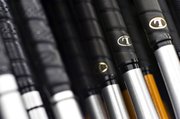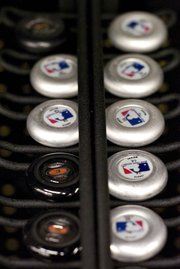 Steamboat Springs — It's a memory that continues to bother veteran umpire John Richmond.
"It's probably one of the scariest things I've ever seen on a softball field," Richmond said. "We got pretty lucky that night."
Two years ago, while working a coed B game, Richmond watched a male batter unleash on a ball, sending it rushing back to the pitcher. Luckily, the pitcher, who was a woman, was able to get her glove up in time to make the play. However, the impact of the ball hitting her glove sent her flying backward.
"I think we stopped the game for about 15 minutes just to make sure she was OK," Richmond said. "It could have been a lot worse."
Richmond said that type of power hitting is becoming more and more common in Steamboat Springs adult recreational softball leagues. Last season, he witnessed several close calls and thinks the time to take steps has come.
It's an opinion that is shared by Kit Rice, the parks and recreational services sports coordinator, who is pushing for stricter bat rules by adopting the bat list approved by the Amateur Softball Association of America.
The ASA bat list is more restrictive than the one used last year, which followed guidelines set by Unites States Slow Pitch Softball Association.
Rice said this season, several of Steamboat's leagues are required to follow the guidelines set by ASA. The only exception will be the men's A league, which has resisted the change. Teams in that league will continue to abide by USSSA rules.
However, Rice said eventually she would like to see all of the leagues follow the ASA guidelines, which outlaw bats with a ball exit speed in excess of 98 miles per hour.
"It's really a question of safety," Rice said. "We had too many close calls and too many injuries last season. We want to be proactive and we want to make sure our leagues are safe for every player. We don't want a trend toward more injuries."
Rice said it is difficult to assign blame for softball injuries, but she feels like a new generation of "super" bats could increase the risk. B leagues reported four serious injuries last season where infield players were struck in the face or head by a line drive. Rice said there were plenty of other less serious cases that she heard about, but that were not reported to league officials.
"We can't say for certain that the bats caused the injuries," Rice said. "But our biggest concern is for the safety of the players, and we think banning some bats will cut down on the risk of injury."
Pitcher Joey Rind, who has played softball in Steamboat Springs for more than 15 years, agrees. He thinks the switch to ASA guidelines is a good thing, especially in lower level leagues where players with less control and slower reflexes are mixed with more skilled players from the upper leagues. Rind plays in a number of leagues and is captain of the Mountain Resorts/Old Town Pub team that plays in men's A.
"Sure, there are times when I am a little scared to be on the mound," Rind said. "There are some guys in our leagues that can crush the ball."
The latest generation of bats means more home runs, more line drives and less time for Rind to react.
He thinks the USSSA standards are fine for men's A, but didn't want to rule out the possibility of shifting to the ASA rules sometime in the future.
"I'm not sure that it's going to get a lot of support, especially in the men's A league," Rind said. "The city might have to step in if they want to see changes."
Although Rice said Thursday that men's A teams will not have to follow the stricter bat regulations this year, she wouldn't rule out a change in the future.
She said the higher level of players in that league are better suited to deal with higher ball speed created by many of the super bats. Because there were no reported ball-to-head injuries, she is making an exception this season.
"I would support the stricter bat rules in the coed league," said Bobby Yeager, captain of the Pioneer Material men's A team. "But I don't think we need those kinds of restrictions in men's A."
For now, the stricter guidelines are going to be used for the women's, men's B, coed B, coed C and coed D leagues.
"I don't have a problem with the ASA list," said Chad Phillips, who is the captain of the Ptarmigan Inn (Buyer's Resource) team. "As long as the changes are across the board and they let us know in advance."
Phillips also doesn't see a problem with the men's A league, but admits many of the new super bats can add a little more pop to any swinger's game.
"You still have to be a good hitter, but there is no question the ball comes off these bats a lot faster," Phillips said. "I don't think it's going to make a homerun hitter out of an average hitter, but it helps."
The city leagues are not alone in making bat-related changes this summer.
Craig Schumacher, who is in charge of several Triple Crown Sports tournaments in the state of Colorado, said his organization is also making changes to make the game safer for players this season.
Triple Crown recently hosted a coed tournament in Aurora that featured wood bats.
Schumacher said most of the teams welcomed the change, but he admits there were a few complaints from some of the upper division teams.
"The problem is there are a lot of players hitting the ball phenomenally hard," Schumacher said. "It's forced us to look at the game, and to make some changes. Softball is supposed to be fun, and nobody wants to be seriously injured."
He said the games at the Aurora tournament tended to be lower scoring and more competitive. Triple Crown also will test the idea at tournaments in Fort Collins and Steamboat Springs during the state and national finals held June 29 through July 2.