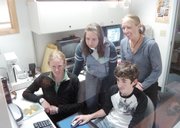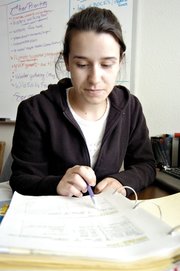 Steamboat Springs — Sean Kuusinen has spent the past four weeks in the Routt County wilderness catching pike to dissect their small intestines, spleens and kidneys, corralling grouse to send to southwest Colorado, trimming trees and mending fences.
And he signed up for it.
Kuusinen, a sophomore at The Lowell Whiteman School, and three other students from the school are piloting a two-year community service program the school instituted this year to immerse the students in local nonprofit or governmental work as a way for them to learn about the inner workings of those agencies as well contribute to the agency missions.
"I'm having a great time," Kuusinen said of his work with the Colorado Department of Wildlife. "When it comes down to it, working with these people and having conversations with them makes me realize that you might not make a lot of money with this work, but it's a much better quality of life. They all really enjoy what they do."
Head of School Walt Daub said the intent of the new program was to provide students an alternative to participating in sports, intersession or the school's famed foreign travel program by teaching them about how nonprofits and governmental agencies function.
"We're always looking for ways for the school to be connected to the community," he said. "We want our students to be responsible, conscious, contributing members of our local, regional and worldwide communities."
Whiteman Primary Head of School Nancy Spillane said sophomore Shelby Reed, who is working with the primary school for her project, is gaining valuable knowledge she otherwise wouldn't receive.
"Nonprofit work is not as grand and glorious as a high school student would think," Spillane said. "Even though it's rewarding in so many ways, there are a lot of tedious, menial tasks. I think Shelby has learned that when you work at a nonprofit, no matter what your position is, you unplug the toilets, you shovel snow, you answer phones - you're a jack-of-all-trades."
Reed is working with other local nonprofits to develop a program that will allow next year's Whiteman Primary students to spend time with those agencies.
Sophomore Emily Gold is working with Yampatika, a nonprofit environmental education organization, writing press releases, grants, filming TV segments and working on the agency's newsletter.
"They keep me busy," Gold said. "I'm pretty much their go-to girl."
Libby Foster, executive director of Partners in Routt County, said their student, sophomore Alex "Bubba Shrimp" Gibbs, will be tough to let go once the four-week program is over.
"The whole spirit of community service behind this new program is really important to support," she said.
Gibbs, who is producing a promotional video for the agency, said he would recommend the program to other students who aren't interested in sports or foreign travel.
"It's a good option," he said.
As for the nickname?
"We (Gibbs and Partners in Routt County officials) were at the aquarium and we spotted this really sophisticated, debonair, suave shrimp," he said. "It looked like me, and the name stuck."
- To reach Alexis DeLaCruz, call 871-4234
or e-mail adelacruz@steamboatpilot.com