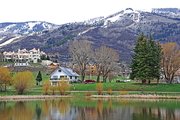 Steamboat Springs — The development group that built The Antlers and Cimarron Townhomes has plans to develop two lodges and up to 61 townhomes on a parcel immediately east of Casey's Pond on the south side of Steamboat Springs.
Jon Peddie, spokesman for the development group, said the group has owned the land for more than two years and has used that time to study more than one approach to building on the site. Now, the group is ready to seek the reaction of city officials to a tentative plan. It envisions as many as 26 new buildings on 12 acres just off Walton Creek Road close to its intersection with U.S. Highway 40.
"We've been over a couple of internal iterations" of the project, Peddie said, "and this is really the one that came to the top. We're interested in hearing (planning staff's, Planning Commission's and City Council's) comments with respect to their vision for this property."
Peddie's group describes the Casey's Pond project as a resort-style development. The site is bound to the north by the Wildhorse Range development, currently under construction. The property to the east is under construction as the final phase of the Stonewood at Eagleridge townhome project.
The preliminary site plan for the development envisions two lodge buildings close to the eastern shore of the pond. The "Ice House" and "Ireland's Lodge" could include a spa and a restaurant.
The name "Ice House" is a nod to the history of the site, where a small log shed with an arched roof was used to store ice from the pond during the summer months, Peddie said.
The parcel is sometimes referred to as the Jobe Property.
Plans for the project reflect construction of "Monson Bridge" over Burgess Creek, just upstream from its inlet to the pond. Plans also call for a road connection with Wildhorse Range.
The townhomes are proposed to be built in a mix of duplex, triplex and fourplex units arrayed around an interior drive. All of the affordable housing required by the city's inclusionary zoning ordinance would be provided on site, according to documents submitted to the city planning department. The plan shows a pair of condominiums in the northwest corner of the site.
In a memo to city planning staff, the developers said they plan to provide a public trail connection to existing trails. They also plan to revitalize several defunct livestock watering ponds by reshaping them and incorporating them into the bridge entry to the development over Walton Creek.
The memo goes on to say the developers have had preliminary discussions with Chris Wilson of the city Parks, Recreation and Open Space Department to explore the possibility of a public partnership to enhance the existing public area at the Casey's Pond.
Casey's Pond is popular among visitors to Steamboat as a family trout fishing spot.