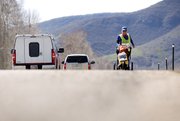 Steamboat Springs — Long after midnight on state Highway 257 in Utah, caught in a blizzard less than two weeks ago, Martin Ilott realized he "had to keep moving to stay alive."
It wasn't about running across America anymore. It wasn't about raising thousands of dollars for the English hospice that helped his father battle pancreatic cancer in 2003 - and that counseled his mother after his father's death - or about accomplishing an incredible physical feat.
It was about getting to the next town. Out of the cold.
So he kept walking through the night, pushing a carriage full of supplies.
Finally, the 42-year-old Ilott saw the lights of a casino in Tooele, Utah. The place was open at 3:45 a.m.
"I walked right in. It was so warm, I couldn't believe it. My hands were shaking so much I couldn't sign for my credit card," Ilott said Friday, along U.S. Highway 40 just west of Milner.
Ilott said experiencing a high-altitude Utah blizzard has so far been the low point of his run across America, which he began March 31 in Huntington Beach, Calif.
He reached Steamboat Springs on Friday evening.
A veterinary surgeon from the London area, Ilott is averaging nearly 40 miles a day. His goal is to jog into New York City's Central Park by mid-June. If he makes it, the friendly, engaging man will have covered 3,084 miles.
And worn out a lot of Nike sneakers.
"My feet have really, really suffered," Ilott said. "I won't show you the blisters. But I'm holding up."
He said he has already raised about $10,000 for Thames Hospicecare, and hopes to double that before he's done.
Finishing the trip will mean about 50 more days of jogging from about 9 a.m. until 7 p.m., averaging four miles an hour. From an iPod strapped to his right arm, Ilott said he listens to "easy-listening rock" such as Bruce Springsteen, Elton John, The Smiths and The Killers.
He has heard Springsteen's song "Born to Run," but Ilott said he currently is more into another Springsteen tune, "Brilliant Disguise."
"He's very motivating," said Ilott, who also has become a fan of David Letterman and Jay Leno during his nighttime stays in motels. He carries a tent in the baby jogger, but said he prefers a warm bed.
"It's hard to camp after a day on the road," Ilott said. "Once you see the glowing light of a motel, it's quite lovely."
Ilott, who trained extensively before the trip, said staying upbeat is crucial for enduring the days of hard roads and unpredictable weather.
"The most important thing is to keep a positive psyche," Ilott said. "And I'm not looking at maps. That would be depressing. All I know today is I have to make it to Steamboat Springs."
Saturday, Ilott is scheduled to tackle Rabbit Ears Pass on the way to Kremmling. After that, he'll continue on U.S. Highway 40 to Winter Park and Idaho Springs, then jog along a bicycle route into Denver.
"Colorado has been the nicest state for running so far," Ilott said. "Nevada and Utah were tough."
Ilott and his father previously jogged south-to-north through the entirety of England and Scotland. The pair had planned a trans-America run, which Ilott is now attempting by himself. Ilott said he keeps an image in his mind of his wife and children meeting him in Central Park.
"Given a bit of luck, I'll make it," Ilott said. "We all need a bit of luck now and again."