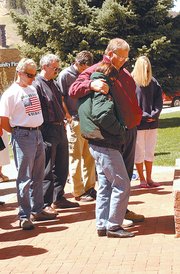 Steamboat Springs — Eight local churches are sponsoring a Community Leaders Prayer Breakfast on Thursday for the 56th annual National Day of Prayer.
The breakfast will take place at Old Town Pub at 7 a.m. with a Day of Prayer celebration to follow at noon on the Routt County Courthouse Lawn. Cost for the breakfast is $10.
The theme for this year's nationwide prayer is "America, Unite in Prayer."
Community leaders, as well as city, county and school officials, have been invited to the breakfast, but anyone can attend.
The National Day of Prayer isn't a religious holiday, rather it brings together local churches and people to pray for the church, families, education, military and the media.
People of all denominations are expected to take part in Thursday's National Day of Prayer.
"It's simply to pray for our God and to our beloved country," said Warren Geldmeier, pastor of Steamboat Church of Christ. "It's to pray for our government, the troops and the people in government to do what's right not according to any agenda, but on a moral basis."
Proclamations from President George W. Bush and Gov. Bill Ritter also will be read declaring Thursday the National Day of Prayer.
The idea behind the National Day of Prayer predates the founding of the United States as a country; the Continental Congress issued a proclamation setting aside a day of prayer in 1775. In 1952, Congress established an annual day of prayer. In 1988, President Reagan worked to designate the National Day of Prayer as the first Thursday every May.
- To reach Luke Graham, call 871-4229
or e-mail lgraham@steamboatpilot.com