Under Construction
Read more about how
downtown and base-area construction
is transforming Steamboat Springs.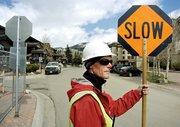 What about the hotel?
Although Thursday's announced sale of Ski Time Square and Thunderhead Lodge does not include other Ski Time Square Enterprises holdings here, General Manager Chuck Porter said other announcements will soon be forthcoming.
Negotiations for the sale of the Sheraton Steamboat Resort Hotel and Conference Center in tandem with the Sheraton Steamboat Golf Course are in "serious and final" stages, Porter said.
The 17 lots in the undeveloped Greystone Park subdivision near the golf course have been sold to a local developer, Porter added. That announcement should come soon.
Steamboat Springs — The stage has been set for the redevelopment of some of the oldest buildings at the base of the Steamboat Ski Area.
Cafritz Interests, a Washington, D.C., real estate developer, announced Thursday it had closed on the purchase of Thunderhead Lodge and Ski Time Square from Ski Time Square Enterprises for an undisclosed price. Both projects date to 1968.
Cafritz President Steve Peer left no doubt his company plans to raze the existing buildings to redevelop the real estate into retail and residential condominiums.
"This is what our careers are about," Peer said. "If you look at our other projects, we try to find places where there are opportunities to modify existing assets and change them to become new and exciting."
Peer declined to reveal the purchase price, and officials at the Rout County Courthouse said the transaction has not yet been recorded.
Cafritz has a portfolio of office buildings, student housing and assisted living centers in the Washington area. Among its most spectacular projects is the 550,000-square-foot Washington Harbour on the Potomac River in historic Georgetown. It includes retail, restaurants and public spaces on the waterfront as well as luxury condominiums and high-end office space.
Originally built in 1985, it was renovated by Cafritz and sold to partner Long Term Credit Bank of Japan in 1990.
"We are pleased to have this opportunity to be involved in the repositioning of Steamboat Springs and Steamboat Ski Resort as we serve the over one million skiers a year who visit and live in this very special community and year-round destination resort," Cafritz Interests Chairman Conrad Cafritz said in a prepared statement.
Cafritz has engaged another development entity, Colorado-based The Atira Group, to act as the local developer for the Thunderhead/Ski Time Square. The Atira Group is pursuing the development of Bear Claw III, on the south side of the Headwall ski trail, opposite the Lodge at Thunderhead.
Noteworthy projects undertaken by the Atira Group include Catamount south of Steamboat Springs and Cordillera in the Vail Valley.
Chuck Porter, general manager of the Sheraton Steamboat Resort and Ski Time Square enterprises, stressed that the transaction announced Thursday does not involve the hotel or other related properties. However, he said news soon would be forthcoming on other Ski Time Square Enterprises holdings here.
"This is what I hoped for," Porter said. "Cafritz has the expertise and the capital to do a great job redeveloping these very visible assets."
Porter said existing commercial tenants in Ski Time Square have been kept abreast of plans for the property and know what to expect in the long run.
Peer said Cafritz would supply a significant portion of the capital for the purchase of Thunderhead Lodge and Ski Time Square. There is an additional financial partner that Peer declined to name.
Peer said it's premature to speculate on how many residential units might result from the redevelopment of Ski Time Square and the Thunderhead.
"We have rough numbers," he said, "but we have not yet engaged an architect. When we do, we'll prepare an initial schematic drawing of what it might look like."
He said it might take five to seven years to achieve full buildout.
Peer emphasized that the establishment of an Urban Renewal Authority at the base of the ski area, leading to a construction start on $20 million in public improvements, played a role in Cafritz's interest here.
"There are three components," he said. "Intrawest (purchaser of the Steamboat Ski Area) is a very important piece. The others are the public investment and other private investments. This is almost the ideal public/private partnership you hope to see."
- To reach Tom Ross, call 871-4205
or e-mail tross@steamboatpilot.com