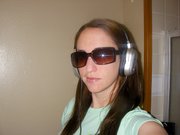 Allison Plean
Allison Plean's column appears Fridays in the 4 Points arts and entertainment section in the Steamboat Today. Contact her at 871-4204 or e-mail
aplean@steamboatpilot.com
.
My grandmother never purchased a DVD player, a VCR or a personal computer. She still doesn't have a CD player and never got her driver's license or owned a car.
And she's getting along just fine.
The advancement of technology and the evolution of our volatile pop culture within her 85 years cannot even be measured in gigabytes.
There isn't a generation gap between us. There's a generation abyss.
I went down to Oak Creek last weekend to cover their 100th birthday celebration as a town, but I secretly just wanted to pick the brains of the 70- to 90-year-old residents.
They actually grew up without indoor plumbing down there in South Routt.
No indoor plumbing.
When my friends and I were covering people's front yards in toilet paper on Halloween, they were tipping over each other's outhouses as a prank. And Lottie Turon used Sears and Montgomery Ward catalogues as toilet paper.
How could I be sitting in the same room, eating ice cream and carrot cake with these incredible women whose humble standard of living had nothing to do with laptops and iPods?
Evelyn Pidcock, who is 92 years old and spent most of her life in the Yampa Valley, liked to sleep in the outdoors.
"I fixed a raft and put bedding on it and slept on 'Dump Lake.' That night I wanted to hear the frogs sing," she said. "No frogs sung that night, but no skunk got on my bed either."
I can't imagine growing up in a rural town in Northwest Colorado.
Steamboat Springs residents go camping all the time, but some bring their $599 tents, $669 sleeping bags and $150 Therm-a-Rest pads with them to "rough it." Oh, and they drive there in a fancy SUV.
Just the thought of having to drop off my dirty clothes at the laundromat on my way to work - where it takes 32 minutes to wash them - sounds like a cruel punishment.
But someone else may view it as a miracle of modern technology.
"I remember I would be leaving for school in the morning and my mom was washing clothes on an old wash tub," said Gladys Sullivan, a very long-time South Routt resident. "When I got home, she was still there."
When I try to quantify this information, I don't necessarily think that my generation is spoiled. We just live in a completely different world.
I was riding subways alone through Vienna at 10 years old, before Pidcock - at the same age - had running water.
She and the other women I spoke with had a freedom that we will never be able to experience.
"We could go out and roam the hills and do anything we wanted to," Sullivan said. "Now everything is fenced and private."
When these women talked about the good ol' days, they described those times as hard - when everyone was poor - and they had to withstand unforgiving winters.
When I asked them what made those ol' days "good," Turon said everyone helped each other out and those times made strong people.
As we embark upon a Steamboat summer pending extensive growth and commercialization, what are we going to say when someone asks us about our good ol' days?
I feel lucky to have graduated high school without ever hearing about the Internet. I'm glad nobody had cell phones when I went on my cross-country trips in college. And I feel blessed to have witnessed a simpler world before big business redefined all of it.
The youth of today have no idea what a horrible sound your boom box can make when it eats your cassette tape or how cool Reebok high tops looked.
I can't even imagine the technological growth they will see in their lifetime.
My grandmother got her first answering machine two years ago. Voicemail and text messaging has already alleviated the need for answering machines. Trying to show her how my iPod worked was like teaching her to dismantle an atomic bomb.
I love that she sees no need for the materialistic things we so desire. I love that Sullivan used to jump on steam-engine coal trains for a free ride to see a show in Oak Creek.
We are at the crossroads where historical charm is threatened by machines of convenience. I'm just glad we are all able to see what's on both sides of that road.