On the 'Net
Read the economic study assessing impacts of a regional sports complex, potentially to be built in Hayden, on the Web at: www.yvedc.org.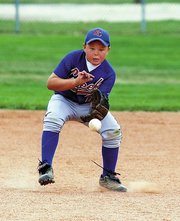 Steamboat Springs — Triple Crown sporting events could bring $1.2 million in tax revenue to Northwest Colorado every summer, potentially supporting the need for a new regional sports complex in Hayden. However, county officials said Tuesday many of the numbers in the study could be misleading.
The Yampa Valley Economic Development Council hired the Denver consulting firm Corona Research to conduct the study. It began last fall and examines the regional economic impact of annual athletic tournaments sponsored by Triple Crown Sports of Fort Collins. According to the study, the tournaments bring about 32,000 visitors and $1.19 million in sales and lodging tax revenues to Northwest Colorado each summer. Those numbers could either disappear or grow significantly, the study says, depending on construction of 14 new athletic fields to create a regional sports complex adjacent to Hayden town limits. The site is just southwest of Yampa Valley Regional Airport.
In a presentation to the Routt County Board of Commissioners on Tuesday, Corona consultants Kevin Raines and David Kennedy presented economic figures - including factors such as potential job creation and tax revenues - for a variety of scenarios regarding a regional sports complex.
Triple Crown officials have said they will not bring the summertime tournaments back to Routt and Moffat counties if a new facility is not built for the more than 800 games currently hosted by Triple Crown. Business community leaders say the facility could serve more constituents than just Triple Crown.
Losing Triple Crown would cost Northwest Colorado governments more than $43 million during the next 25 years, Raines and Kennedy said. Conversely, building the complex and nearly doubling the amount of Triple Crown events would create a scenario where regional governments could break even in the first year and see more than $11 million in net tax profits during the next 25 years.
More moderate scenarios, such as building the fields and gradually increasing Triple Crown usage, would break even after 15 to 20 years, according to the study. The study does not directly take into account the money Triple Crown participants spend while they are visiting the area.
"Once you get that asset paid for, it begins creating a positive fiscal impact for the region," Raines said.
The study also says a moderate Triple Crown increase would bring more than 150 jobs to Northwest Colorado.
But commissioners Nancy Stahoviak and Diane Mitsch Bush questioned many of the assumptions and methods used in the study, such as applying state income averages to job creation and tax data.
"The average income in Routt County is significantly lower than the state average in many wage areas, particularly the key ones (to this study) such as retail," Mitsch Bush said. "That's very troubling - I'm really worried about some of the numbers in this study."
Stahoviak added the study assumes Routt County will isolate tax revenues generated by Triple Crown visitors and spend those revenues only on the sports complex.
"That is not necessarily the case," she said. "There are major assumptions made here that may or may not be the case."
Stahoviak also questioned why the study did not address activities that could replace Triple Crown revenues.
"Their scope of work was not to study what could replace Triple Crown," Winnie DelliQuadri, a Steamboat Springs city employee and Economic Development Council administrator, said of the consultants. "This study was specifically done to give local governments objective, unbiased information as to what the impacts are."
The study cost $39,530 and was funded by the city of Steamboat Springs, the city of Craig and the town of Hayden.
Corona presented the study to Craig officials Tuesday night, will present in Hayden tonight and to the Steamboat Springs City Council on May 15.
Sandy Evans Hall, executive vice president of the Steam-
boat Springs Chamber Resort Association, said several public meetings will be held in coming months to gauge regional "willingness" to move forward with a sports complex.
"A sports complex could be utilized by a lot of other entities as well," Evans Hall said. "It's not just Triple Crown."