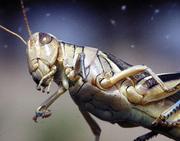 Steamboat Springs — Grasshoppers consume more aboveground biomass than any other animal in the North American plains, said CJ Mucklow, agriculture extension agent for Routt County.
The good news is he does not predict a grasshopper infestation this summer, like the ones Routt County experienced in 2002 and 2003.
"I can't predict with 100 percent accuracy, but I wouldn't expect to have a widespread grasshopper infestation in 2007," he said. "If we had a drought year, we would have had more survivability of eggs and young grasshoppers."
Water is detrimental to the survival of the insect.
"In the springtime, when they are real young, they are susceptible to disease if they get wet," Mucklow said. "Having a wet summer in 2006 killed a lot of the eggs and the survey from 2006 that measured nymphs - young grasshopper - didn't have high numbers."
If there are more than 15 grasshoppers per square yard, it is considered an infestation.
"Of the 50 sites (surveyed), no where on the map does it give any indication of an outbreak because we don't have the counts," Mucklow said. "Most of them hatch in the spring, reach maturity by later summer and lay eggs or die."
Grasshoppers typically only live for one year. Their biggest threat to residents of the Yampa Valley is their grazing capabilities.
"It affects people because they are in competition with animals for grazing," Mucklow said. "They affect people in town because they eat their landscape and they are a nuisance. They have also been found to carry vesicular stomatitis."
Yampa Valley would need to have an extended drought period to elicit another grasshopper infestation.
"We are historically a place that doesn't have grasshopper infestations, and I'm personally not concerned about having a massive grasshopper infestation this year," Mucklow said. "The next potential (infestation) would be in 2008."