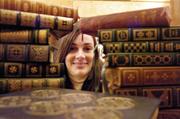 Steamboat Springs — For Erica Fogue, picking up a book is more than a passionate pastime.
"I've always had a love-love relationship with books," she said. "Books are so essential to who we are, in whatever form we read them or whatever form we keep them."
That love for reading and sharing books with other people led Fogue to open the Epilogue Book Co., which will celebrate its fourth anniversary in May.
Epilogue Book Co.'s eclectic and warm atmosphere has often led people to wish they had the bookcases and books in the store, Fogue said.
As a result, Epilogue Book Co. now is offering a unique service to build custom home libraries for Routt County residents who might not have the time or energy to create one personally.
"These will be books that you're going to want to read and treasure, they're not just books for decoration," Fogue said. "Anyone can decorate with books, but only a knowledgeable and creative bookseller can create a library around your interests and intellect."
Fogue and her staff at Epilogue have developed two options for people interested in having a professional build a library: "off-the-shelf packages" and a custom option.
Beginning at $99 per linear foot and rising to $899 per linear foot, clients can choose between a "Bestsellers Collection," which includes new hardcover bestselling titles; the "Epilogue Anthology," which includes books from a variety of literary genres; or the elite "Fine Bindings Treasury," which includes rare, first edition and antiquarian books in fine leather bindings.
If a package isn't for you, Fogue can create a custom package based on a client's areas of interest and preferences.
"We can tailor a library to be anything you want it to be," she said. "The goal is to create a library with books that people are actually interested in reading. It's like having our recommendations for you in your own home. It's just part of being a bookseller. We put the right book in the right hands of the right person."
In addition to supplying the books, Epilogue has an interior designer and architect who can build and install the libraries. Epilogue also is capable of working with a client's own interior designer or architect to create shelving.
"We do it all - We design it, we order the books, we install it and we organize it," she said.
Each library comes with a searchable database so the client knows what he or she has on the shelves, she added. Personalized bookplates also are available.
Fogue said offering to build book libraries is one way for the bookstore to compete with chains like Barnes & Nobles and Borders.
"What really sets us apart is that we're book lovers, so we read. We're book experts and we know what's out there," she said.
That knowledge is key in designing a library, she said.
"We're completely immersed in the industry," she said.