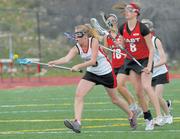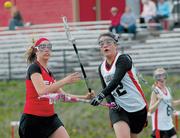 Steamboat Springs — Nothing comes easy in the Colorado High School Activities Association's Metro League for girls lacrosse.
"As far as leagues in Colorado go, it's the toughest," Denver East coach Averill Hovey said of the seven-team league that mixes Steamboat Springs in with four of the state's top 20 ranked teams, including two in the top five. "You've got the group of death there."
Despite its 4-5 record, East emerged from a competitive string of games in the league and ran past Steamboat for an easy 23-4 win on Friday at Gardner Field.
But the Angels didn't exactly bring death as the Sailors showed signs of progress during the game.
"We were down and we knew it, but picked it up and kept our heads in the game and it showed," Steamboat's Kristen Elliott said.
The Angels scoring came in spurts, opening the game with a four-minute run to put them ahead, 5-0.
A save from Steamboat goalkeeper Courtney Adamo sparked the Sailors' first settled offensive possession with an outlet pass to Elliott, who cleared the ball to behind the East goal and found Kelsey Pal cutting for a nice quick-stick goal to put Steamboat on the board.
Pal struck again for Steamboat off a free position shot and then Maria Heilner cut the East lead to 7-3, after picking up a ground ball, dodging hard to the goal past two East defenders and nailing a stick-side high shot past East goalie Mo Mulligan.
"They're definitely better than last year," Mulligan said of Steamboat. "They're more competitive and much more confident."
But with 11 minutes to go in the half, the Angels had another run, scoring five goals in three minutes. Adamo put an end to it by stopping four consecutive shots, including one at point-blank range. Adamo finished with a season-high 16 saves.
Down 15-3, the Sailors defense could not contain the speed of East attack wing Nellie Hayes, who opened the second half with a pair of goals.
Elliott reenergized the Sailors' play with a second-half goal that had her slice through the East defense and finish a low shot. But Steamboat struggled to keep the ball out of East's sticks as the Angels continued to rack up points. Stefanie Tuder led all scorers with seven goals.
"We definitely came up with the ball and had some great moments of passing, working together and settling the ball," said Kirkpatrick, pleased with how her team's improvement could carry much-needed momentum into the game at 11 a.m. today - Steamboat's final game of the season against Green Mountain at Gardner Field.
- To reach Dave Shively, call 871-4253
or e-mail dshively@steamboatpilot.com