On the 'Net
www.davidtaylorquilts.com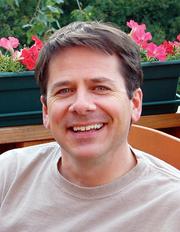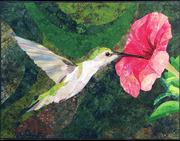 Steamboat Springs — David Taylor, of Steamboat Springs, won Best of Show in the International Quilt Association's annual spring judged show, Celebrate Spring.
"I won $2,500 and an all-expenses-paid trip to Chicago, where I shopped and bought more fabric," Taylor said.
There were 93 entries from all over the world in the competition, and Taylor was one of 45 finalists.
"They were all wonderful," he said. "They all had spring themes, mostly flowers and little baby animals and things."
This is not the first award Taylor has won for his complex, hand-appliqued quilts. He won the Contemporary Artist Award last fall, his fourth international ribbon in two years.
The winning Hummingbird quilt Taylor entered into the contest involved 2,500 yards of thread, which included 20 to 30 different colors.
Taylor was shocked that he won.
"I can't believe I won Best of Show. I'm just astounded," he said. "I only entered it because I wanted to enter something into the show and that was the only one that was done at the time."
The quilt is part of a series of Colorado-themed quilts Taylor is assembling for a solo exhibit next spring at the Rocky Mountain Quilt Museum in Golden.
Taylor has two other quilts accepted into the Denver National Quilt Festival in May.
"I would really like to win that," he said.
Taylor has always had a love affair with fabric. He learned how to sew from his mother when he was a child, but didn't start quilting until 2000.
"My favorite part is doing machine quilting," he said. "It's like drawing or painting with thread."