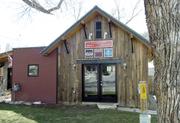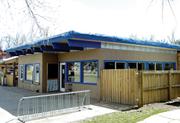 Steamboat Springs — Realtor/developer Jim Cook has entered the city planning process with a proposal to replace three small buildings on Yampa Street with three new buildings.
The new construction would provide a mix of residential units and commercial space, including a restaurant. The site fronts the Yampa River between Seventh and Eighth streets. It is immediately west of Bear River Center and immediately east of the Yacht Club restaurant.
Cook is a principal in Colorado Group Realty. Among the buildings that would be demolished to make way for the new, yet to be named project is Colorado Group's project showcase. The remaining buildings house Sunpie's Bistro and Sweet Pea Produce in one structure and Hell's Wall consignment sporting goods in a neighboring old house.
However, Cook said the demolition phase would not begin until late in the construction season of 2008.
The new two-story buildings would create four retail spaces plus a restaurant on the first level and four, possibly five, residential units on the second level.
Cook owns the real estate showcase building and has an option to purchase the other two from James D. Reichert of Denver, he said. He has the master lease on Reichert's buildings. The development group is the same as the one tackling larger projects in downtown Steamboat, including Howelsen Place, Alpenglow and River Walk. Green Courte Partners of Chicago is the financial partner.
Cook said he hopes to continue a business relationship with at least two of his current tenants.
"Sunpie's will most likely be a tenant" of the new restaurant building, Cook said.
If that should happen, he said, he anticipates the cafe would not have to close during the transition. Sunpie's owner Mike Miller confirmed he has a right of first refusal to lease the new space. He added he'd have to wait and see how the details unfold before making a decision on the future of his business.
Cook said there's a chance Sweet Pea Produce would occupy a commercial space in one of the other three projects in Steamboat's Old Town. Jonathon Hieb, a partner with Katherine Zambrana in the business, said that's one option they are considering.
"Our business is definitely at a crossroads," Hieb said. "We could continue as a seasonal business, which would probably mean moving out of downtown in the next two years or so. Or, we could become a full-fledged natural market and move into one of the new buildings."
Whatever happens, Hieb said, Cook's new development on Yampa Street won't put him out of business.
Hieb also is a partner with Pete Van De Carr of Backdoor Sports in Hell's Wall.
Cook said the new structures would honor the architecture that prevailed in another era on Yampa Street.
"We want to follow the design guidelines and respect the older residential look," he said.
Architect Bill Rangitsch's preliminary elevation drawings show residential style gables and covered entryways on the Yampa Street side. The rear elevation incorporates large windows on the commercial buildings.
Crescent-shaped seating walls define patios along the river.
Cook said the lots are too shallow to allow construction of a public trail paralleling the river. Instead, he proposes to create public access walkways to the river between the buildings.
Cook did not offer a construction timetable. His submittal to the planning department is so recent no staff planner has been assigned to it, and no meetings have been scheduled.