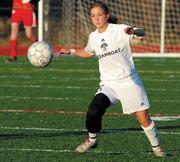 Steamboat Springs — Steamboat Springs soccer coach Rob Bohlmann knows the true measure of a team's character is in how it responds to adversity. The Steamboat girls hit a rut Saturday, tying an outmatched Palisade team in overtime, but Bohlmann thinks the team is back on track.
"Our greatest challenge, for lack of a better word, is an uninspirational game and trying to find passion in our play," Bohlmann said. "I'm feeling good we've had a great week of training and are back where we need to be - the team as a whole has regrouped since Palisade."
The true test for Steamboat's response will be when the whistle blows today at 4 p.m. at Gardner Field. Steamboat (9-1-2) faces a skilled Delta team in the Sailors' final home league game of the season.
The Panthers (5-4) are currently tied with Glenwood Springs for third place in the Western Slope League (behind Battle Mountain in first and Steamboat in second), and they also have a serious knack for responding to adversity.
On March 30, five players commuting from Paonia to play for Delta were involved in a rollover auto accident. Delta coach Julie Mottern said all the players walked away with minor injuries, but that the accident "shook up the team," causing some players to quit the team and sidelining other key players.
The next day, Delta hosted Steamboat for a tight game where Steamboat edged out a 1-0 win.
"I'd say that possession time was split," Mottern said of the game. "It was one of our best games. We outshot Steamboat, hit posts, hit goalies and missed a penalty kick to tie the game. : Steamboat plays a real clean game and does well possession-wise. We struggle with the kickball teams and do better settling down."
Delta used its own settled brand of offense to shut out Palisade, 2-0, on Tuesday.
"They play very good, technically sound soccer," Bohl-mann said of Delta's growth into a West Slope force. "Over the last five years, they've grown from the grass-roots into a very legit group - it looks to be a great game."
Mottern agreed, noting that her girls are fighting for a postseason berth.
"The girls are pumped," Mottern said. "They feel like they can beat Steamboat for the first time ever, but they're going to have to play their A game."
- To reach Dave Shively, call 871-4253
or e-mail dshively@steamboatpilot.com