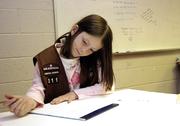 Steamboat Springs — Some people opt to eat leftover Girl Scout cookies. Katie Guptill got more creative - and philanthropic.
Instead of selling the excess boxes or offering Thin Mint milkshakes for dessert for the next year, Guptill, the cookie mom for Steamboat Brownie Girl Scout Troop 311, decided to gather the young girls together and send the extra cookies to different troops - in Iraq.
Anthony Haight, son of Gail Haight, a special education aide at Strawberry Park Elementary School, has been stationed in Iraq since August. Anthony is a gunner near an oil refinery about 100 miles north of Baghdad, and Gail is "very happy" her son isn't near Iraq's tumultuous capital city.
Gail answered nearly a dozen questions about her son to the 10-plus girls gathered in the choir room at the Steamboat Springs Middle School on Tuesday. The girls were busy writing letters to Anthony and his platoon members, and they wanted to know a little more about Gail's son.
Gail told the girls Anthony will be very excited to receive boxes of Girl Scout cookies, especially the Thin Mints.
"It doesn't matter if they are melted together," Gail told the girls about the chocolaty cookies.
Wal-Mart is offering to package the cookies and send them, and The Industrial Company and First National Bank of Steamboat Springs donated money to the troop for the cookies.
Leah Caragol, 7, whose family also donated money, read her letter to Gail, saying she hoped the troops would be safe and hoped they would enjoy the cookies.
Aubrey Rohde, 7, said she had no trouble writing her letter.
"It's pretty easy to write because we know the soldiers are hungry," Aubrey said.
And there will be plenty of boxes to share. Troop 311 is sending more than 200 boxes of different kinds of Girl Scout cookies to Iraq.
Emily Wertz, 7, said she would love to receive a package from overseas.
"I'd think it might be gold," she said.
"What if you opened it and found Girl Scout cookies instead of gold?" someone asked Emily.
"I'd still think it was gold," Emily answered back. "I like Girl Scout cookies."