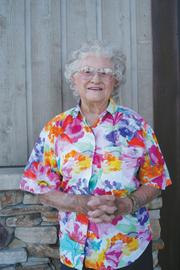 Steamboat Springs — A longtime reporter of summer happenings in Hahn's Peak passed away Saturday evening at the Sandrock Ridge Care and Rehabilitation Center in Craig, where she had been staying for the past four months.
Rilla Wiggins died of natural causes at the age of 89.
"She was well-known," said Wiggins' daughter, Marsala Hancock of Clark. "There are people from all over the world that would come to see her every summer."
For 17 years, Wiggins wrote the Hahn's Peak News, which was published in the Steamboat Pilot & Today on Sundays in the summer.
She was instrumental in establishing and maintaining the Hahn's Peak Historical Society. Before Wiggins died, she had completed writing her book, which likely will be published, Hancock said. Wiggins titled her book "Hahn's Peak as it Used to Be."
Everyone knew Wiggins had arrived at Hahn's Peak for the summer when they spotted her signature pink Jeep, which she enjoyed driving to North Routt. During the colder months, she lived in Craig.
Wiggins was a world traveler, having visited every continent during her life. Every summer, she would travel to Mexico to do missionary work.
"She got around more than I did and I'm 25," said Keith Hancock, Wiggins' grandson, who lives in Craig. "She's just all-the-time busy."
Wiggins and her late husband, Al, first bought their cabin in the Hahn's Peak Village in 1951 for $100.
Before that, the couple ran a portrait photo studio in Craig. In college, Wiggins took a picture of a Kansas dust storm. It was a dramatic photograph and was widely used, once appearing in an issue of National Geographic.
In 1976, Wiggins and her husband brought the photography business to Hahn's Peak. The couple opened Things 'n Stuff, which evolved throughout the years to include a variety of "knick knacks, and what nots" that Wiggins collected during her world travels, Hancock said.
"That's why the store was called Things 'n Stuff," Marsala Hancock said, adding that the store likely would not reopen this summer.
Wiggins also was the keeper of the keys for the historic museum and schoolhouse next door.
"Our family has been up here for so long, that she worked to see that the old buildings stayed the way they were," Keith Hancock said.
In her weekly news articles, Wiggins often would write about the wildflowers in North Routt County and chronicle how they changed throughout the season. Al was also a flower lover.
"We all learned flowers," Marsala Hancock said.
Every summer, Wiggins would treat locals and guests to slideshows about flowers, her mission work and Hahn's Peak history at Steamboat Lake State Park.
Marsala Hancock said the family still is making memorial service arrangements. A small service might be held in Craig in the coming weeks, Hancock said. This summer, a service also will be held in Hahn's Peak, where she will be buried in the cemetery.
"Most of her friends are summer people so we decided to wait 'til summer," Marsala Hancock said.