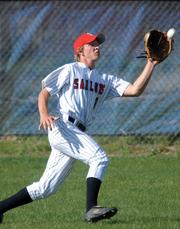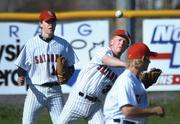 Craig — When a single passed ball allows two runners to score it does not bode well for your defense.
Such was the case Tuesday afternoon as Moffat County High School enacted the mercy rule in a 16-3 victory against Steamboat Springs High School.
Sailors coach Dave Roy summed up the loss as a defensive lapse.
"We hit the ball hard, but defensively we had a meltdown," Roy said.
"I'm looking at that scoreboard and it should read 5-3," he said afterward. "We had missed plays at the plate, and just handed it to them."
Steamboat Springs (3-9 league, 4-13 overall) got on the board with two runs in the top of the third inning.
Senior catcher Marc Hall led off with a double, and Roy inserted a pinch runner before Elliott Girard hit an RBI single up the middle.
"Marc continues to do a great job for us," Roy said of the catcher.
After two wild pitches from MCHS starting pitcher Billy Ivy, a passed ball allowed Girard to score the team's second run.
In the bottom of the inning, the Bulldogs (7-2, 8-3) began avenging last week's 3-2 loss.
MCHS senior Bryan Richards began the rally with a three-run home run over the right field fence, giving the Bulldogs a 3-2 lead they wouldn't relinquish.
MCHS third baseman Brad Grinstead continued the hit parade with a single that Sailors first baseman Nic DeVos bobbled, which allowed Grinstead to advance to second.
Josh Satterwhite laced an RBI single to give MCHS a 4-2 advantage. Then, Billy Ivy cranked a two-run home run that bounced on top of the left field fence, extending the lead to 6-2.
Anthony Flores walked and advanced to second on Sailors starting pitcher Alex Wood's balk, and Erick Leonard made it a 7-2 ballgame with an RBI single up the middle.
Richards led off the bottom of the fourth with a double to right field and Jordan Williams followed with a double to shallow center field, but Richards had to stop at third base.
Grinstead drove in both teammates with a three-run home run over the left field fence, giving MCHS a 10-2 lead.
Then, Satterwhite singled up the middle, and Ivy singled past diving Sailors' third baseman Elliott Girard.
A wild pitch from Sailors' Taylor Anderson advanced the runners 90 feet, and Flores connected for a double to right field to make it 11-2.
With no outs and Leonard at the plate, a wild pitch allowed both Ivy and Flores to cross the plate for a 13-2 advantage.
With the bases loaded and one out, Williams hit a three-RBI double to clear the bases, and give MCHS a 16-2 lead.
The Sailors added one more in the top of the fifth on an RBI single from Cody Harris, but the 10-run mercy rule brought the Western Slope game to an early finish.
"That was a little better, huh?" MCHS coach Rich Sadvar said with a smile. "We played good defensively and offensively the way we are capable of. They didn't have anything to throw today that we couldn't hit. We've got that kind of a productive lineup."
The Sailors travel to Eagle Valley on Saturday for a doubleheader. Game times are 11 a.m. and 1 p.m.