Past Event
Thursday, April 19, 2007, 5:30 p.m. to 7 p.m.
Steamboat Springs High School, 45 Maple St., Steamboat Springs
All ages / Free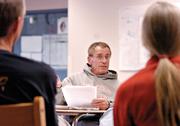 Steamboat Springs — The easy thing would have been to resign.
Instead, embattled Steamboat Springs School Board member John DeVincentis stood his ground, apologized for a series of harsh e-mails he sent about a former school district administrator three years ago and said he is willing to talk "face to face" with any community member interested in hearing the "real deal."
During a public forum Tuesday at Steamboat Springs High School, DeVincentis sat in the middle of a half-circle of chairs filled with six or seven community members, parents and former school district employees. The forum was an opportunity for DeVincentis to address the community personally since deciding not to communicate with the Steamboat Pilot & Today.
Some spoke of their disappointment in DeVincentis' actions, some thanked him for his apologies and some questioned why DeVincentis should remain on the board.
"I'm not resigning from the (School Board)," he said. "It's not out of stubbornness or to be contrary."
DeVincentis said several times that he has been "humiliated" and "humbled" at reading his past words in the newspaper, and that he is seeking professional help to help him deal with what he characterized as "a fixating anger."
"I believe the purpose in life is to always improve," DeVincentis said. "You're always improving emotionally and mentally to really understand yourself, to be the best person you can on the last day of your life. In a short time I have learned a lot about me. I have really, really focused on myself. Myself alone. And I didn't like what I saw. I can honestly say I am not that person I was three years ago."
Despite DeVincentis' public apologies, there still is a faction of former School Board members and his past supporters pursuing a recall. DeVincentis said that is their right.
"I don't view a recall as a threat," he said. "I was elected through a democratic process, and if the public chooses to replace me, my feelings won't be hurt," DeVincentis said. "They can choose someone else. If that happens, I can walk downtown proudly and say I stood up for myself. It would have been very easy to resign. I wrote a letter of resignation but decided not to turn it in because you don't get slapped a couple times in the face and slink away. I've never backed down from a bully, ever."
Randall Craig, a father of two school district students, said he is concerned DeVincentis' presence on the board could be detrimental to the future of the district because of his past actions and the board's decision to pursue an internal investigation to determine whether district policies were violated in releasing the e-mails.
"Why should I not recall you?" Craig asked. "Your actions were neither ethical nor professional as someone representative of our community. What's relevant now is that you're being recalled. Why should you be on the board? Why are you more valuable than a replacement?"
DeVincentis replied that his knowledge of the "system," 23-year employment and positive effects he has had on the community in the past will continue to make him a valuable asset and productive member of the school board.
"My relationship with the remaining : board members is excellent, and I believe I will continue to be productive," he said.
DeVincentis praised recent training and mediation as driving forces in improving School Board and district communication, and attributes that communication to a healthy School Board meeting Monday night.
"I felt like for the first time, we were in sync," he said of Monday's meeting. "My No. 1 goal now is to create a much better working environment for everybody."
Longtime Steamboat Springs resident and high school basketball coach Kelly Meek expressed his disappointment in DeVincentis but also praised his legacy. Meek also called for whoever released the e-mails to come forward.
"For the healthiness of the district, have the integrity and put your name on it," he said. "Don't just sneak it out and run. Everyone has the right to face their accuser."
Community member Elisa-beth Mullen concurred and commended DeVincentis for not "taking the easy road out."
"I think this is a lesson for our children. He's a leader, he's stepping up, and he's fallible," she said. "I'm glad you didn't resign, that you didn't step down and leave town as some are horrifically suggesting."
DeVincentis answered all the questions asked of him and addressed comments other community members had, and said he would continue to do so since he isn't in communication with the public via the newspaper. Another forum is scheduled for 5:30 p.m. tonight and Thursday at the high school.
-To reach Alexis DeLaCruz, call 871-4234 or e-mail adelacruz@steamboatpilot.com