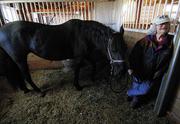 Steamboat Springs — A contagious horse disease known as "strangles" is lingering at Sidney Peak Ranch, a month after most of the unusually large outbreak subsided.
Rod Hanna, president and chief executive officer of Sidney Peak Ranch, said Monday that strangles infected 15 of the 61 horses at the ranch from late December through early March. The ranch is a horse-boarding facility that includes an indoor riding arena, outdoor pastures and 32 adjacent home-sites on Routt County Road 14, south of Steamboat Springs off Colorado Highway 131. At least one horse at the ranch still has the disease, which is also known as "horse distemper." Strangles is characterized by a swelling of lymph nodes beneath a horse's chin and in the throatlatch area, possibly affecting a horse's ability to breathe. The disease is a bacterial infection that most often runs its course in about 10 days and is rarely fatal, but it can spread rapidly among horses in close proximity to one another.
"Surprisingly enough, a lot of people don't know about it," barn manager Angie Harding said of strangles.
Routt County resident Nat-
alie Bieber said her half-Morgan horse, named Shadow, is currently suffering symptoms from the disease at Sidney Peak, which Bieber called "the best barn I've ever boarded a horse in." Bieber said Shadow could have become infected with strangles at a friend's pasture.
But one local horse owner is not happy with the conditions at Sidney Peak. Laurrelle Crawford removed her Tennessee Walker gelding from the ranch in November, she said, because of concerns about a lack of health precautions.
"I made complaints last year because they were putting a sick mare next to mine," Crawford said. "They weren't taking care of the place to protect the health of the horses that were there. Now, I'm nervous about bringing my horse back from Arizona. This is about protecting all the horses in Steamboat."
Sidney Peak Ranch is requiring all new horses boarded at the facility to have a strangles vaccination, which Harding said has about a 60 percent success rate in preventing infection. The ranch boards horses in individual stalls inside the barn, outdoor paddocks and an outdoor pasture.
Harding said strangles likely came to Sidney Peak in an influx of new horses that began boarding at the ranch in December.
"This is the first year we've had 60 horses," Hanna said.
Symptoms of strangles include a fever, a reduction of energy and an unwillingness to eat.
"It's basically the same as strep throat in humans," Hanna said.
Harding said treatments include letting the disease run its natural course, lancing the boils to induce drainage, or in some cases, giving the horse antibiotics such as banamine.
"Mild cases usually resolve themselves without incident and probably do not require antibiotic therapy," said the North Dakota State University Extension Service, which said in a February article that strangles was a common affliction among horses this winter. "Applying hot packs to swollen and abscessed lymph nodes can be beneficial. : Any equipment that has come in contact with an affected horse, including brushes, buckets and tack, should be disinfected thoroughly."
Local veterinarian Mike Gotchey, who treated the horses at Sidney Peak, could not be reached for comment Monday.