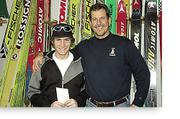 Steamboat Springs — Marvin Crawford's exploits in the skiing hills made him a legend in Steamboat Springs, and thanks to a memorial fund set up by his family after his death his legacy continues.
"This is the kind of thing he would have wanted to do," Marvin's son, Gary said. "He would have wanted to give kids in Steamboat the opportunity to pursue their goals and their dreams."
Since Marvin's death in January of 2005, Gary and the Crawford family have awarded several grants to young Nordic combined skiers in the Steamboat Springs Winter Sports Club. The grants are given to skiers based on their effort and their potential. Normally, the grants are given to skiers who have traveled to an international event, such as the World Junior Championships.
This year, that award was given to Taylor Fletcher, who qualified for and competed in the World Junior Nordic Combined Championships in Planica, Slovenia.
"It was a real eye-opener," Fletcher said of the competition. "But it was a great experience that makes me want to work to reach that next level."
Taylor Fletcher was the third skier to receive an award since the Marvin Crawford Memorial Fund was established.
In 2005, Davis Miller and Bryan Fletcher each received $1,000 to help them cover expensed related to traveling to international competitions.
This year Taylor Fletcher's hard work, effort and dedication prompted Gary Crawford to award $500 from the memorial fund to the young Nordic combined skier.
"This is a huge help," Taylor Fletcher said. "It's hard, financially to compete, and I'm honored that Gary would think of me for this honor."
Gary Crawford said the money comes from donations people make to the memorial fund shortly after his father died. He had hoped to award money to skiers on a regular basis but said donations to the fund have dropped off, and his family has been forced to award gifts more selectively. When the fund was established in 2005, the family had hoped that the fund would continue to grow, but now the family has to evaluate how the gifts are handed out and how it will continue in the future.
"We really want to keep this thing going, and are hoping that people will continue to donate to the fund," Gary Crawford said. "There are lots of great Nordic combined skiers in this town, and we would love to help more of them out in the future."
For more information on making donations to the memorial fund, please contact Gary Crawford at 879-8380 or donations can be made to the Marvin Crawford Memorial Fund, in care of Gary Crawford at P.O. Box 881021, Steamboat Springs 80488.