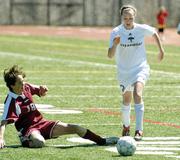 Steamboat Springs — The Steamboat Springs girls soccer team dominated its game, Saturday against Palisade, in every facet of play except one - scoring.
Steamboat (9-1-2) ended up tying Palisade (3-5-1) in double overtime, 1-1.
After 74 minutes of play, Steamboat outdid Palisade 10-2 in shots on goal and had another nine quality scoring opportunities of shots that went wide compared to four from Palisade. A first half that featured 25 solid minutes of a controlled Steamboat offense setting up camp in Palisade's end and basically playing keep away would have looked like a blowout to the casual observer.
Yet Steamboat had only one goal to show for it.
With six minutes to go in the game, Palisade set up a corner kick where Chambry Brouton centered the ball for Kirstee Bunting, who put her foot on it for a shot that trickled in and shocked Steamboat - suddenly it was score or tie.
But the Bulldogs' goal reenergized their play. Palisade started winning the balls at midfield for the first time in the game to send it into two five-minute overtime periods.
Steamboat played the first overtime period with some of its most organized and urgent play of the season, but still could not find the net. In the second overtime, Betty Sasak dribbled by the Palisade defense and lofted a high shot just over the crossbar.
"We just weren't connected," Sasak said.
Steamboat coach Rob Bohlmann had a similar explanation.
"The big issue is the lack of passion in our play," he said. "Complacency is a word we beat to death. It doesn't feel like
a loss. It's leaving without the result you wanted and we didn't put the effort in that we needed for that result."
It could have been worse for the Sailors.
Before Palisade's late momentum-shifting goal, Bunting slipped past the Steamboat defense. Steamboat goalkeeper Hanna Berglund, who had 10 saves in the game, went for the slide tackle, but Bunting recovered the loose ball and missed an open shot on goal.
"It's a discipline thing when you're a senior with a breakaway like that and you screw it up," Bunting said. "I give the Steamboat defense credit. That sweeper (Sasak) did well covering the cutting and getting to balls. You get one chance versus a defense like that."
Heidi Wernig, who played much of the game holding down the defense with Sasak, thought her team didn't "deserve to be disappointed," based on their play.
Steamboat scored its goal 13 minutes into the game. Mandi DeVos lofted a pass to Lauren Letson on the right side, who slipped behind the Palisade left fullback and buried her shot on the far post.
or e-mail dshively@steamboatpilot.com