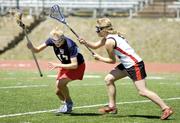 Steamboat Springs — Steamboat Springs girls lacrosse coach Jenn Kirkpatrick knows getting better means playing - and learning - from the best.
It was easy for Kirkpatrick's players to benefit from hosting the Kent Denver Sun Devils on Saturday at Gardner Field. Kent (7-0-1 against Colorado teams) currently is ranked as the state's No. 2 team, just behind the Cherry Creek team it tied.
"Kent is such a strong varsity program, it's good for them to see that," Kirkpatrick said. "They pass and spread the field, doing the things I teach, so the girls can see that what I say makes sense."
Unfortunately, Steamboat could not process the lessons fast enough. Kent jumped to an early lead and did not let up, going on to win, 17-0.
The Steamboat girls did not think the score was a good indication of their overall play.
"I felt like we played really well," Steamboat goalkeeper Courtney Adamo said. "We went in with a much better attitude."
The Steamboat girls decorated the stadium fences with posters for each of their players and came out fired up, screaming encouragement in their pre-game huddles. But as the wind picked up and began to tear down the posters, the complex Kent motion offense slowly undid the Steamboat defense. The Sun Devils quickly established a four-goal lead.
Steamboat played plenty of defense, not getting an offensive possession until six minutes left in the first half. But the Sailors learned to pick up cutters and stick to defensive assignments.
"Our defense really seemed to click and everybody was there," Megan Lucas said. "Courtney Adamo really stepped in the first half and as a whole, everybody did well."
Adamo had five of her nine saves in the first half, which also featured the Sailors' lone stint on offense.
"I called a play, and the girls were aggressive about it," Janie Townes said. "We stayed on our men and did everything we could."
Ahead 10-0, the Sun Devils kept up the relentless pressure in the second half, controlling ground balls and creating turnovers as 11 different players scored assisted goals.
"Most these kids have played since seventh grade. Some started in fourth," said Kent coach Greg Courter, pointing out the depth of a roster that includes one of the nation's top recruits and a handful of players heading to NCAA Division I college programs. "Jenn does a great job with this team, but they need to see more competition - we get the benefit of traveling back East for spring break, and a lot of these kids are on club teams."
Although Kirkpatrick was unable to beat her alma mater, she was pleased with a game she knows is a necessary step in the right direction.
"This can only make us better," she said. "One day, we'll be able to beat them."
Steamboat plays at 4 p.m. Friday at home against Denver East and at 11 a.m. Saturday against Green Mountain.
- To reach Dave Shively, call 871-4253
or e-mail dshively@steamboatpilot.com