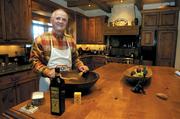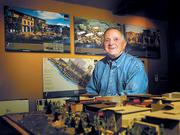 At Home, Spring 2007
Realtor and developer Jim Cook is a principal in three major downtown Steamboat Springs redevelopment projects - Howelsen Place, Alpenglow and Riverwalk. Each includes a mix of residential and commercial spaces. Together they offer the promise of kicking off a renaissance in the downtown commercial core.
The founder of Colorado Group Realty, Cook is refreshingly candid in public forums and has engaged the public in an effort to present his vision for the future of Steamboat's downtown.
Cook grew up in South Bend, Ind., and fondly recalls taking 10 cents out of the money earned on his childhood paper route to ride the bus downtown and catch a Flash Gordon movie.
At Home: Jim, would you paint a picture of your vision for a pedestrian shopping district along the river on Yampa Street?
Jim Cook: More than a pedestrian shopping district, I see Yampa Street becoming our primary pedestrian corridor. I believe that the new development along Yampa will continue to include a residential component and offer retail venues that will encourage people to linger and enjoy. These could include additional riverfront dining and entertainment venues, galleries, open-air markets and interesting public gathering spaces. The area will be extended as the new library anchors one end of Yampa and Riverwalk the other. I see lunchtime entertainment at various locations, children's activities as simple as sidewalk chalk art competitions, string performances, singing groups - a fun place to be. Look for juried, cash award art festivals to be a part of Yampa beginning in 2008 as we look to create an arts and culture district for the area. What an exciting opportunity for the whole community.
AH: You are active in the National Trust for Historic Preservation, and yet you've provided the impetus behind tearing down and redeveloping buildings in the heart of Steamboat's historic downtown district. How do you reconcile those two seemingly conflicting roles?
JC: This is such a sensitive area, because as a board member of Main Street, which is an idea borne out of the National Trust, the preservation ethic is a very important part of its mission. The Nite's Rest (Motel) was a no-brainer. It had absolutely no historic significance and was economically obsolete. The trailer park at Riverwalk was much the same issue and the replacement projects will stand on their own as significant for the community. The Harbor Hotel was a different story. Three different groups looked at trying to rehabilitate, restore or otherwise preserve the Harbor. The problem was that the building(s) was constructed in several different phases and had become structurally very unsound and dangerous. During the demolition process we discovered what earlier testing had told us - the support piers for the building were void of any supporting soils and would not support anything other than the first floor. In the final analysis, it had to come down. What was important to most people were the memories of events at the Harbor rather than the building. We will try very hard to replace those memories with the new Howelsen Place. In addition to a life-size bronze statue of Carl (Howelsen), we will celebrate the former Harbor Hotel through a changing display showing events that were a part of the hotel's past.
AH: You're in the midst of construction on three downtown projects that include a mix of ground-floor commercial spaces with residential spaces on the second and third floors. Steamboat currently has retail vacancies in some perfectly good locations. How can the community absorb more retail? Is Steamboat underserved in some categories that make sense here?
JC: The demographics of this community have changed significantly over the last three to five years. There is considerably more disposable income that can support better retail. Our strategy is that we do not lease space to fill holes. We examine the demand and need and will not lease space unless it fits our strategy, which includes a synergy that will support the neighboring businesses. More "feet on the street" and enhanced entertainment venues will drive the need for additional retail. We will absorb the space and create a vibrancy and sales tax base that is so badly needed for downtown.
AH: Can you reassure owners of commercial buildings and businesses in downtown Steamboat that you are not creating a glut of retail space that will undermine the district?
JC: As I said, we have a strategy. That strategy does not include shuffling the deck and moving existing retail. Having said that, we do have some retailers that want to grow their business and cannot do that in their current space. They are part of our strategy.
AH: You've been vocal about your belief that downtown Steamboat must create a revitalized entertainment district to support a lively retail district. What form might new entertainment venues take? Does downtown need a jazz club for affluent baby boomers?
JC: The performing and visual arts are a very important part of creating the entertainment venues. In time, we may see our theater downtown go back to a 400-seat, single-screen operation that can also satisfy small theater groups, traveling bands, dance performances and other opportunities that Strings in the Mountains cannot satisfy. The new Steamboat Art Museum at its height will feature traveling exhibits, competitions and a varied permanent collection. The demographics of the arts patron will create better retail and dining. Stores will finally see the wisdom in staying open until 9 o'clock at night. Food and wine events will also be a significant part of the entertainment future. This in no way diminishes the importance of Howelsen Hill and the many entertainment venues that occur on that side of the river. Main Street Steamboat will continue to be a leader in formulating the future of our downtown.
AH: You have a map you keep over your desk with colored stickers denoting redevelopment projects under way in the downtown core. Part of that map includes stickers pinpointing potential future redevelopment projects. I understand you keep it pretty much to yourself. Do Steamboat residents have any idea how much change is coming to the downtown over the decade ahead?
JC: I believe that people who are active in the community understand what lies ahead. It is important to note that all of the projects downtown are being done by local developers who share a strong sense of community. We are not trying to change Steamboat, because we all moved here for the same reasons. We are, however, trying to make things better and create opportunities for the whole community. Change is the only thing that is predictable. What we need to do is make sure that we plan ahead for that change. These are exciting times.
AH: Tell Steamboat about the Jim Cook only his friends know.
JC: I am a collector of art and a closet artist, voracious reader of newspapers, accomplished cook, wannabe designer and architect, gardener, 56-year veteran of the game of golf, former lead singer in a band, and I'm passionate about family, friends and things I believe in. I can be introverted, and I can be extroverted. I am over-committed and cannot say no to volunteer efforts. I will tell you what I think and be honest with you whether you want to hear it or not. I do not have time for people who are not honest and who are looking for shortcuts at someone else's expense. I absolutely love Steamboat, and I love what I do. I will probably continue to do it until they lower me into the ground.