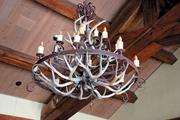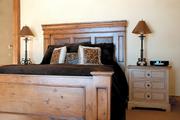 At Home, Spring 2007
The days when Jace Romick's clients ordered custom aspen log beds are all but over. The log furniture has been relegated to the children's "bunkhouse."
The trend today is toward less rustic Western furniture complemented by European pieces.
A good example is the bed Romick custom designed for a spectacular home in Priest Creek Ranch. It's Western, but no one would ever describe it as rustic.
Romick formerly owned a wood shop in the Yampa Valley where his craftsmen built highly sought-after log beds. Today, the owner of Romicks' Home Collection still lends his creative touch to beds for his clients' homes, but he turns construction over to a craftsman in Idaho.
"People have the perception that all we are is Western, but we're not," Romick said. "We're more sophisticated than that. Western design is part of our heritage in this valley, but today it's more elegant. That's where we see it going."
The master bedroom in the Priest Creek Ranch home is dominated by a bed made of knotty alder. The smooth hardwood is hand-rubbed with a brown stain that exudes warmth.
A large, hand-tooled leather panel that shows off craftsmanship worthy of the skirts on a fine Western saddle accents the center panel of the headboard. The leatherwork cost almost $600. It's Western, but it's subtle and classy.
The furniture is carefully hand-hewn to soften the edges. Great pains were taken by the builder to create a glazed effect through the use of a stipple brush that adds depth to the finish of the furniture.
A pair of French end tables in a blond finish flanks the bed. They are reminiscent of the treasured pieces of furniture that pioneers brought overland in the 19th century. Their look is enhanced with a crackle glaze that gives the tables an aged patina.
Elsewhere in the 7,500-square-foot home built by Fox Construction, a substantial stone fireplace looms over the great room. A large chandelier incorporating antlers hangs from the high ceiling. Romick points out that it's significantly different from the antler chandeliers of a decade ago. The new trend is to stack antlers in a hand-forged iron chandelier. The look is just a little bit more polished and sophisticated.