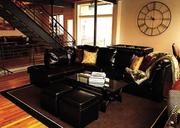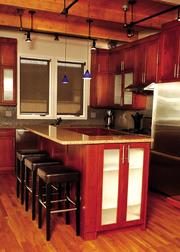 Steamboat Springs — Sales of Blackhawk Lofts townhomes got off to a slow start in 2003, but the situation has reversed itself dramatically this spring.
"It's nice to see how it's turned out," Realtor Randall Hannaway said.
Ground has been broken on seven new multi-story townhomes representing Phase 3 of the project. It's about 200 yards from the Steamboat Gondola on Village Drive. All seven units have been reserved at prices beginning at $985,000 and going up to $1.01 million Hannaway said.
"They are completely booked, and we have backups on several of them," he said. "All the people who are in, I think are fairly firm."
Hannaway, at Colorado Group Realty, is co-listing the project with David Baldinger Jr. of Steamboat Village Brokers.
Baldinger Jr. and Hannaway are not the original listors, but Baldinger Jr. said they saw a rapid response from the market when they came on board.
"We sold the first phase out in four months," he said.
Hannaway attributes a portion of that success as much to market timing as the marketing tactics they put in place.
Blackhawk stands out along "condominium row" near the base of the ski area for its modern architecture and building materials that suggest urban lofts more than they do ski chalets. They average about 2,500 square feet in size and offer three or four bedrooms.
Just two years ago, in March 2005, the price of townhomes at Blackhawk began in the high $600s and continued up to the low $800s.
Baldinger Jr. said the price increases for Phase 3 are consistent on a percentage basis with increases throughout the ski area base during the past two years.
Baldinger said Blackhawk and the Trappeurs Crossing condominium project, continuing in development on the opposite side of Village Drive, are compatible with one another.
"they're not really in competition," he said. "Trappeurs offers more amenities," and more of a nightly rental community, he said. "Purposefully, Blackhawk has fewer amenities and lower fees with more space in a more residential neighborhood."
Hannaway said a surprising number of buyers at Blackhawk are spending most of the year in residence.
"The cars you see parked there right now belong to the owners," he said.
Baldinger Jr. said the willingness of the broker community to take a fresh look at the project's architectural style made a big difference in the pace of reservations on the newest phases at Blackhawk Lofts.
"There are lots of neat architectural styles in Steamboat, but most townhomes and condominiums are very similar on the inside. Blackhawk broke the Steamboat mold with the loft concept."
Finish details inside the townhomes include more steel, hardwood flooring and iron railings than most Steamboat vacation homes, he said.
"There's a large amount of glass," Baldinger Jr. said. "During the day, you almost don't even have to turn a light on."
Hannaway said Black-
hawk's cost per square foot - in the $400 range - makes it a relative bargain as comparable properties in the vicinity move up to $600 and even $1,000 per square foot.
Inventory for townhomes at the base of the ski area remains tight with new products a couple of years away.
Hannaway completed a search of townhomes at the mountain in the range of $800,000 to $1.2 million and turned up a total of seven. Of those, several were a couple of miles from the gondola on the west side of U.S. Highway 40.
There are five more units to be built in Phase 4 of Blackhawk Lofts, and those too have reservations in place. However, they are not price specific. Baldinger Jr. anticipates prices in the final phase might increase by 20 percent.