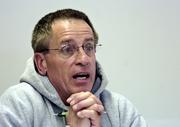 Steamboat Springs — A coalition of former Steamboat Springs School Board members and John DeVincentis former supporters is weighing an effort to recall DeVincentis from the School Board.
"I think we were all disappointed John did not resign," said Jim Swiggart, the former chairman of Parents for Dr. D. "We were hoping John would step down. No one person can bring enough to the board to outweigh the distress that John has brought to the board and the problems that will follow."
It will take a petition signed by almost 2,000 registered school district voters to force a recall of DeVincentis.
DeVincentis has come under heavy criticism for a series of e-mails he sent between August 2004 and May 2005. In the e-mails to a teacher in Mercer Island, Wash., DeVincentis joked about spitting on former Steamboat Superintendent Cyndy Simms, joked he would be arrested for battering and abuse if he were married to her, bragged about lying to the Mercer Island School Board to get the board to hire Simms and suggests using Simms' personal life and family as a way to undermine her. He also described current Superintendent Donna Howell as "very similar" to Simms and announced his plans to run for election to the School Board to change the administration.
DeVincentis used his school computer and school account to send the e-mails.
The e-mails end about the time DeVincentis retired at the end of the 2004-05 school year. A few months later, he was elected to the School Board.
He has apologized for the e-mails, but has indicated he will not resign despite calls for him to do so from several former School Board members, including Paula Stephenson, Tom Miller-Freutel, Matthew Hermes, Millie Beall, Paul Fisher, Tom Sharp and Pat Gleason. Former members of Parents for Dr. D, a group organized to support DeVincentis during his public battles with Simms in 2002, also has asked DeVincentis to resign. They include Swiggart, Greg Dixson, Michael Loomis and Tom and Marci Valicenti.
During a special meeting of the board Thursday, School Board President Denise Connelly said the board will investigate how the Pilot & Today acquired the e-mails but otherwise will try to "move on." Printed copies of the e-mails were given to the Pilot & Today by a source that has asked to remain anonymous.
The board has given no indication it will take any other action in regard to the e-mails. Connelly suggested if community members feel a recall is necessary, they should pursue one.
Making amends
DeVincentis has offered to host three public meetings from 5:30 to 7 p.m. Tuesday, Wednesday and Thursday to hear from the community regarding the e-mails.
However, former school board members question whether an apology and public meetings are enough to mitigate the fallout the school board, the district and the community is experiencing as a result of DeVincentis' actions.
"We seem to be living in a world of apologies these days," said Jim Gill, another former school board member concerned about the future of the district under the current administration. "Apologies seem to be the buzzword. However, it's one thing to apologize for one moment of indiscretion. I don't know if John DeVincentis' actions can be categorized as a single moment of indiscretion. His apparent vitriolic anger (in the e-mails) occurred over a long period of time."
Gill said he was particularly concerned with the School Board's position to keep DeVincentis on the board despite DeVincentis' admittance that he lied to two Mercer Island School Board members who came to talk to Steamboat Springs school officials before hiring Simms.
In an e-mail dated Oct. 13, 2004, DeVincentis writes: "Hate to say it, but I lied like a snake and blamed our board for everything. I blamed (believe it or not) policy governance for being a major contributor to our problem. Another major lie on my part :"
DeVincentis "admitted dishonesty, which by most of our standards would be unacceptable for an elected official," Gill said. "He admitted he lied."
After being read DeVincentis' comments Saturday, Connelly said, "He lied to the board?" and said she could not comment.
Parallel tracks
Connelly said she wanted to make it clear the board does not "condone the contents of the e-mails" and it believes "disparaging remarks of any past superintendent are unacceptable." However, Connelly said the board has decided to move along "parallel tracks" by dealing with the DeVincentis controversy at the same time as continuing on with normal school district business.
After having private discussions with the board's attorney, Richard Lyons, and DeVincentis, the board essentially agreed that DeVincentis is not acting unethically in his capacity as a School Board member now.
"If (DeVincentis) was continuing to act unethically, we as a board could meet in executive session and vote to censure him," she said. "I don't see that that fits here."
Not insignificant
Connelly said her comments about the board "moving forward" do not mean the board feels the situation is insignificant.
"My main concern is to not be at a standstill because of this, to not be paralyzed by this for the betterment of this district," she said. "We're not saying it's not a big deal or that we don't want to deal with it, absolutely not. I'm just saying we can't afford to be paralyzed by this to the detriment of the district."
As a result of her actions, Connelly said she understands that there are segments of the community that may be prepared to move forward with a recall, which she acknowledged could include her.
"There is a concern there, but does that mean we stop functioning? I feel we have to proceed for the integrity of our district," she said. "As I've said before, everyone needs to use their heads and their hearts and go forward with what they feel is best, whatever that may be."
A recall
Sherry Wofford, Routt County Clerk and Recorder chief deputy clerk, said if a recall were to take place, the school district would be responsible for reimbursing the county for any costs associated with the recall.
As of Friday, no one had begun the recall process for any school official, she said.
To recall an elected official, a person would present a petition for the recall, and upon approval of that petition, would begin collecting signatures from eligible voters in support of the recall.
The recall of a School Board member requires a petition signed by enough registered voters in the school district to equal 40 percent of the votes cast in the School Board member's last race for election.
Specifically, to recall John DeVincentis, who defeated Michael Loomis in 2005, would require 1,933 signatures on the petition.
Once the completed petitions are reviewed for validity, an election would be scheduled. That election would include the recall question as well as the election of a new board member.
There can be as many candidates on the ballot as desired. However, those individuals also would have to petition to get on the ballot, Wofford said.
Swiggart said he hopes to have more information about the recall this week.
"Our goal is to get together to firm up those ideas to give interested community members some direction," he said. "We will be discussing ways for the community to get involved."