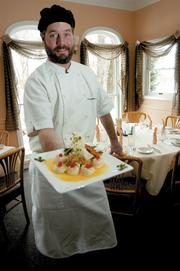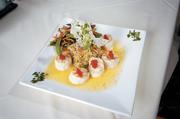 At Home, Spring 2007
Chef Mike Murphy can dance around the kitchen like nobody's business. And he should - he's spent a lot of time there.
Murphy started in the restaurant business as a 13-year-old preparing food for a catering company in California where he worked before and after football practice. But his interest in the culinary arts was piqued even earlier. He fondly recalls the first meal he prepared as a boy - a soft-shell crab he caught in the Chesapeake Bay with his grandmother.
And his culinary education has continued on a near-daily basis ever since. A combination of hands-on training and home study has expanded his skills.
"I can sit at the computer and get 15 different recipes for the same dish in milliseconds," Murphy said. "While some people would rather chase women and powder days, we take things very seriously and are career-oriented people here (at Cottonwood Grill)."
Murphy has been the chef at Cottonwood Grill for two years. He says he likes involving his line cooks in the creation of daily specials.
"'Too many chefs in the kitchen' can be true, but once you put egos aside, bouncing ideas off each other can be great," he said. "I take every chance to teach somebody something in the kitchen, because anytime you teach anybody something, you learn something yourself."
When not in the kitchen at Cottonwood Grill, Murphy spends time with his wife, Leslie, and his two daughters, Hannah and Maille.
"I've put my hobbies to the side, including fishing and skiing and golfing," he said. "I put them aside because my kids are so young, but I will teach those things to them later.
"My family is great. My mother lives downstairs from us, and I love that," he said. "It doesn't matter what we are doing as long as we are in the same place at the same time."
His extended family includes his co-workers.
"I like to think I treat people at work like family," Murphy said. "But I put out more rules for the wait staff and kitchen staff."
Murphy cooks in large batches at home and freezes meals for his family in his walk-in cooler. Although he prefers refined French cooking and the "rustic side of Southwestern" cooking, Murphy is incorporating more "feel-good" food into his family's diet, including Americana staples such as meatloaf.
He also makes sure to cook for his "kids" who work with him at the restaurant.
"They come in after skiing all day with glazed eyes," Murphy said. "I tell them, 'Here's the protein, just don't stare at the customers like that.'"
While he often plays the role of teacher at work, Murphy said he always will be a student of the culinary arts.
"There's one thing I've learned about cooking," he said. "I will die at a ripe old age not knowing it all, no matter how many countries I visit or cookbooks I read."
Grilled Day Boat Scallops
Served with Shrimp Fried Rice, a Yuzu~Tobikko Beurre Blanc and a Thai Chili, Sugar Snap Pea Stir-fry. Garnished with Furikaki-seasoned rice paper.
Fried Rice
½ tablespoon Sesame oil
1 tablespoon Canola oil
¼ cup Shrimp
2 tablespoon Brunoise (finely diced mixture of carrot, broccoli, red onion, baby carrot and water chestnut)
½ teaspoon Garlic
½ teaspoon Ginger
2 cups Jasmine rice
1 teaspoon Cilantro
2 teaspoon Soy sauce
½ teaspoon Tiparros
Salt and pepper to taste
Method
Heat saute pan, add oils. Saute shrimp and vegetables until shrimp start to turn pink. Add garlic and ginger, toss. Add rice and continue to toss. Add soy sauce and tiparros. Continue to toss. Add cilantro and check seasoning.
Scallops
Scallops - under 10 per pound,
½ pound portion of 4-5 is sufficient
Method
Grill or saute over medium-high heat for about two minutes per side. Serving fresh sea scallops almost medium combines great texture with optimum moisture flavor.
Sugar Snap Pea Stir-fry
1 cup Sugar snap peas
¼ cup Carrot (Julienne)
¼ cup Shiitake mushrooms
½ Tablespoon Sesame oil
1 Tablespoon Canola oil
½ tsp Garlic
½ tsp Ginger
½ tsp Red Thai chilis
Salt & pepper to taste
Method
Heat saute pan, add oils. Toss in garlic, ginger, carrots, sugar snap peas and shiitake. Saute mixture until carrots are slightly softened, add Thai chilies and salt and pepper.
Yuzu~Tobikko Beurre Blanc
1 cup White wine
1 Tablespoon Shallot
¼ cup Sake
1 Tablespoon Yuzu juice
¾ cup Butter
¼ cup Tobikko
Salt and pepper to taste
Method
Reduce first four ingredients over medium high heat. Reduce heat and fold in butter first, then Tobikko and salt and pepper.