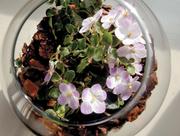 At Home, Spring 2007
Container gardens offer one of the best opportunities for condominium and townhome owners to grow a Rocky Mountain flower garden. But to succeed, you must understand that the plants in your clay pots live a very different life from those planted in a flowerbed.
"One thing that people forget about is that the whole plant is above ground," master gardener Deb Babcock said. "That means it gets hotter than it would if it were planted in the ground. And that means it needs a lot more water. But heavy watering tends to flush nutrients" out of the soil.
Babcock urges against using garden soil in container gardens. Instead, use a potting mix that employs time-release fertilizers. Be careful where you keep the container garden - close proximity to buildings and doors only adds to the reflective heat stressing the flowers.
Good plants for container gardens include geraniums, marigolds, salvia and snap dragons.
Get a head start on spring
Most gardeners in Steamboat Springs don't begin placing young plants in the soil until June because of the danger of frost. That means gardeners are behind the curve in terms of establishing colorful flowerbeds. The obvious strategy to combat summer's late arrival is to start seeds indoors. But gardeners aren't likely to succeed if they plan a weeklong tropical escape from the Yampa Valley; newly sprouted seeds require constant temperatures close to 70 degrees and frequent, gentle watering.
Seeds can be started in small, peat moss disks that expand when watered, but placing potting soil in used egg cartons (poke holes in the bottom) is just as effective. Deciding when to plant is as easy as consulting the back of the seed packet and adjusting the planting date to Steamboat's unusual growing calendar.
The most common problem with starting flowers from seeds is underestimating how much sunlight seedlings need. If your indoor garden is beset with seedlings that grow tall, spindly stems before flopping over and dying, it's a sign that the plants aren't getting enough direct sunlight from a south-facing window.
- Tom Ross