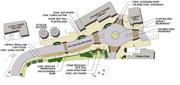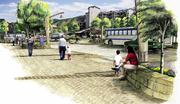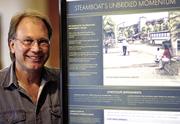 Steamboat Springs — Work on the multi-year, $23 million redevelopment project at the base of Steamboat Ski Area begins this week, but many of the details - such as agreements with private property owners and a permanent source of maintenance funding - have yet to be finalized, or figured out at all.
"Do we have anything in writing today? No, we do not," redevelopment coordinator Joe Kracum said Friday. "Right now, we're kind of stabbing in the dark."
He made those comments to a roomful of base area property owners and city officials during a meeting of the Urban Renewal Area Advisory Committee in Centennial Hall. The committee oversees the base area redevelopment and makes recommendations to the Steamboat Springs City Council, which acts as the Steamboat Springs Redevelopment Authority when dealing with base area redevelopment issues.
Kracum was referring to a lack of formalized, written agreements with private property owners at the base area. Such agreements would transfer easement rights to the city and allow infrastructure improvements and public use of areas currently owned by groups such as Ski Time Square Enterprises, Steamboat Ski and Resort Corp., Torian Plum Plaza property owners and Mount Werner Lodge.
Encroachment
While most of the construction planned for this summer will occur on public property, Kracum acknowledged there are four "slivers" of work that encroach on private land. For example, a new roundabout on Ski Time Square Drive, near Steamboat Trading Co. and The Tugboat Grill & Pub, requires construction on private land, as does a sidewalk planned from the roundabout to the Gondola Transit Center. Mount Werner Lodge and Ski Time Square Enterprises own land that will be impacted by construction this year.
The new roundabout is the central piece of 2007 redevelopment at the base area.
Also, Ski Time Square Enterprises is selling base area properties such as the Sheraton Steamboat Resort, further adding to the logistical challenges of construction.
Kracum said Friday that while the easement contracts are not finalized. "Permission" and "agreements" are in place with property owners.
"Call it what you like," Kracum said.
Mount Werner Lodge owner Jack Ferguson is a co-chairman of URAAC and is supportive of the redevelopment plans.
Brent Lloyd of the Denver consulting firm Wenk Associates said the easement contracts could soon be complete.
"I think it's just a matter of signing on the dotted line, and I think we're close to that," Lloyd said.
Kracum is an independent contractor who previously has worked on redevelopment projects at Vail and Beaver Creek, in addition to numerous large-scale construction and engineering projects across western Colorado.
He said work on utility improvements at the base area will begin Tuesday.
Deal-breaker?
Despite strong direction from the City Council, base area planners have yet to establish a permanent source of funding for future operations and maintenance costs created by redevelopment projects.
At a meeting Tuesday night, Kracum said, council members clearly reiterated their position that "construction documents will not be produced for construction on private property until a permanent mechanism is in place for O & M funding."
An attempt to place a base area taxation district on the November 2006 ballot failed last fall. Such a district, known as a general improvement district, would provide permanent O & M funding and is an option still under consideration - and debate - by URAAC.
"I strongly believe a general improvement district will never pass," Torian Plum property owner David Baldinger Jr. said Friday.
City officials acknowledged Friday no O & M plan will be in place anytime soon.
"It's flat-out impossible that we're going to have a comprehensive O & M plan in a month," said John Eastman, the city's lead planner for base area redevelopment.
City Councilman Towny Anderson supports moving ahead with construction this year, and said Friday "we need to go to council and explain why we can go forward."
City Councilman Paul Strong also said a lack of O & M funding should not be a deal-breaker in 2007.
"I'm not overly concerned for projects this year," Strong said. "Things like the bus turnaround, the city will maintain anyway. We designed the projects this year to be those sorts of things. For the future, it is a concern. It's something we need to work out before we start talking about snowmelt systems, elevators and all those things : It doesn't make a difference to me how it's funded, as long as we find a way to fund it."
The sooner the better, said URAAC members, who will continue discussing O & M options in coming weeks.
"We know one thing the council has said - if we don't get this done, nothing is going to happen in 2008," Ferguson said.
"It needs to be addressed soon. It's not long before we'll be in a time crunch for next year," said Tom Leeson, director of city planning services. "But there are enough people who want to make it work, that I think it will work."
The Torian debate
Contracts with property owners, in addition to O & M funding, will be an absolute necessity for base area redevelopment to continue next year.
In 2008, work is scheduled to begin on the Burgess Creek Promenade, a grassy swath of land between Torian Plum Plaza and the ski area's gondola building that will serve as a venue for small events, a gathering place and a connector to various parts of the base area. All of the promenade, as well as a tentatively planned ramp that would provide access from Ski Time Square in place of the current metal flight of stairs, is planned for private land - which property owners may or may not cede to the city.
Chris Corna, owner of the Slopeside Grill and president of the Torian Plum property owners' board, said Friday that the board's consensus has been "not to give up that property, and not to make that property undevelopable in the future."
"What I'm hearing is that Torian property owners are not buying into this," added Anderson.
But Jim Schneider, vice president of skier services for Ski Corp., noted much of the promenade area already is "undevelopable" because of an existing easement for skiers and snowboarders.
At least one Torian Plum Plaza owner is on board for redevelopment plans.
"I'm buying into this 100 percent - I think it's awesome," Baldinger Jr. said. "And I think there are other owners who feel the same way. We're going to hammer for this."
On Friday, URAAC members discussed conceptual plans for the promenade area, including a public elevator or escalator, public restrooms, food and beverage service and possibly an amphitheater.
"I think we're probably getting a little ahead of ourselves," Schneider noted.
Last week, the City Council issued $9 million in bonds to fund initial redevelopment work, which this summer will also include sidewalk, landscape and signage improvements. Tax revenues from the Urban Renewal Authority, a special taxation district the city implemented at the base area in 2005, will repay the bonds.
The city is expected to issue an additional $14 million in bonds in 2009 for base area redevelopment, Kracum said.
"I'm excited," Kracum said last week. "We're ready to go."
- To reach Mike Lawrence, call 871-4203
or e-mail mlawrence@steamboatpilot.com