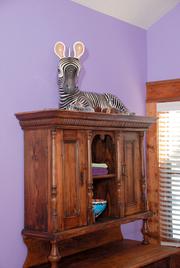 At Home, Spring 2007
The hard-rock miners who toiled to extract precious metals from the Colorado Rockies in the 19th century often built their families statuesque Victorian homes - if their day jobs proved successful.
Routt County homes built in the 19th century were more modest, likely because local mines produced more coal than precious metals.
However, a spectacular new home in Steamboat Springs evokes something altogether different - a historic mine structure. Situated not far from the base of the Thunderhead Express ski lift in the neighborhood above Burgess Creek, the home is built of large recycled timbers that have taken on the patina of age. The architecture suggests the entrances to gold mines.
The interior, designed by Lynne Bier of Home on the Range, continues the mining theme with the use of custom light fixtures throughout and a towering clerestory in the master bedroom.
Bier even added a humorous touch in the large wine cellar.
There, a tiny imitation canary in an antique birdcage points its feet at the ceiling - an ominous sign that the air might not be safe.
At the same time that the home celebrates Colorado's past, it recognizes the transitional trend that balances the Western look with sophisticated European and Asian influences.
"What we've done is to soften the home with pieces like a Victorian vanity in the mud room and a (deep red) Asian table in the foyer," Bier said.
A tiny reading nook formed by a curved bench near the entrance to the home is bracketed with portraits of an early fur trapper and an American Indian, an obvious nod to the history of the region. The Asian influence is reintroduced to pocket space by several large throw pillows covered in patterned material reminiscent of dark burgundy Kilim rugs.
Bier said the reason Steamboat's finest homes are seeking a middle ground in their design is that it comes more naturally than devoting the interior of a house entirely to the American West.
"It really reflects the way people have always lived," she said. "Imagine a ship's captain who brought things from the Orient back to San Francisco. People have always incorporated family heirlooms into their homes."